Take a dip in Seattle's most breathtaking outdoor swimming pool.
Colman Pool is located in Lincoln Park in West Seattle, and has been a major landmark here since its construction in 1941. Colman Pool has an incredible location on the waterfront, with front row views of the Olympic Mountains. Wow!
This heated saltwater pool is only open in July and August, and some weekends in September. It can get crowded, so make sure you arrive early. The pool recycles saltwater from Puget Sound from three wells on the beach, and is kept at a warm 85 degrees. It's only one of two outdoor pools in Seattle.
Colman Pool is located in West Seattle near Alki Beach. There's no parking at the pool, so a 15 minute walk is required from the south parking lot off Fauntleroy Way SW (near SW Cloverdale Street).
Check hours & admission (lockers require cash).
10 best things to do at Colman Pool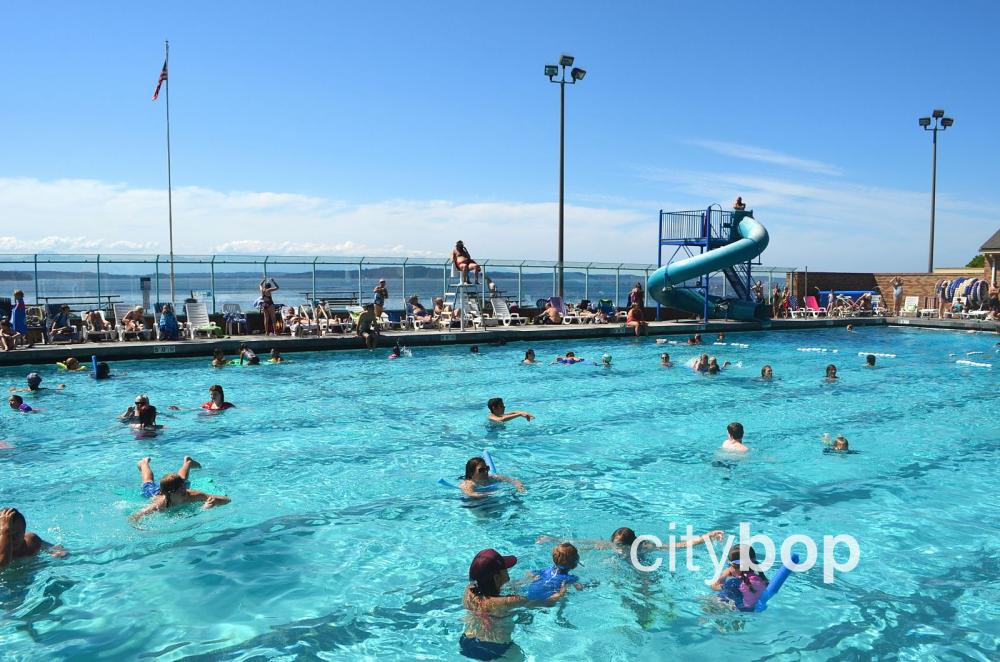 1. Enjoy incredible views of the Olympic Mountains from Colman Pool.
2. Jump off the two diving boards, or ride down the Giant Corkscrew Pool Slide.
3. Sign up for swim lessons or lap swims.
4. Spot whales and sea lions out on Puget Sound while swimming at Colman Pool.
5. Request outdoor chairs and umbrellas to shade yourself from the sun.
6. Enjoy a picnic in the grassy, fenced in area at Colman Pool. Snacks are available at the vending machine, but there is no kiosk here.
7. Store your clothes in the locker, and utilize the change rooms and restrooms.
8. Request floats and noodles from the staff, if available.
9. Sit on the bleachers outside the Colman Pool, and watch a glorious sunset over the Olympic Mountains.
10. Explore other things to do at Lincoln Park. Lincoln Park has a waterfront path, bluff trail, swings, playground, wading pool, trails and picnic table. Alki Beach is only 4 miles north, and has a beautiful, sandy beach with restaurants and ice-cream shops.
Where to park near Colman Pool
The south parking lot (Fauntleroy Way SW & SW Cloverdale Street) is at beach level and provides easiest access to Colman Pool. It's a relatively flat 15-minute waterfront walk from here to Colman Pool.
The north parking lot (Fauntleroy Way SW & SW Rose Street) is up on the bluff and involves a 20-minute walk through forest, with an extremely steep set of stairs down to the beach where Colman Pool is located. This is a strenuous walk, and especially difficult with kids.
Know before you go
More Kids Activities in Seattle