Enjoy mini-golf, craft beer and comfort food in a fun pub setting!
Grab a group of friends for a game of mini-golf at the Flatstick Pub. Book a tee time, and plan a fun event like a birthday or date night.
The Flatstick Pub has three locations in Seattle, at South Lake Union, Pioneer Square and Kirkland.
5 best things to do at Flatstick Pub
1. Each of the three Flatstick Pub locations has a 9-hole mini-golf course, with whimsical decorations to maneuver around.
2. All have 9-hole duffleboard tables, which is a mix between mini golf and shuffleboard.
3. Plan a birthday, date night, or work function at Flatstick Pub.
4. Sample craft beers, brick oven pizza, french fries, chicken wings, salads, and ice-creams.
5. Kids are permitted at the South Lake Union or Kirkland Flatstick Pub, but not Pioneer Square (must be aged 21+).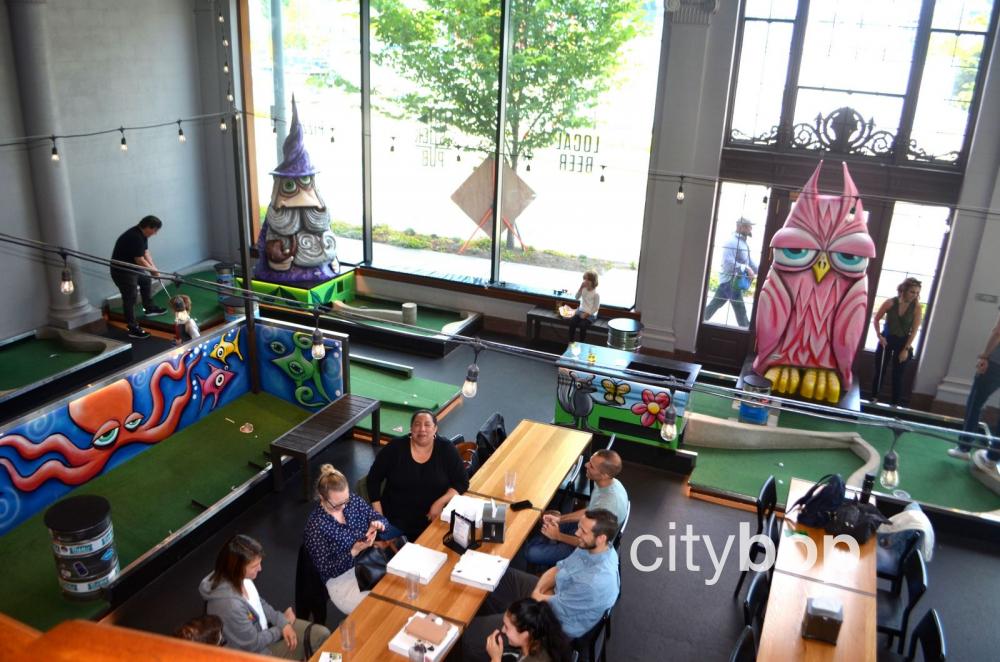 Choose from 3 Seattle Flatstick Pub locations
The South Lake Union and Pioneer Square locations are near downtown Seattle, and the Kirkland location is 20-minutes east of Seattle. The Pioneer Square location is 21+ only.
Guide the ball around Sasquatch at the South Lake Union location!
Kids are allowed at the South Lake Union location.
It's great for a company event.
More Restaurants & Shopping in Seattle