Learn about Seattle's dynamic history at MOHAI, in a spectacular location on South Lake Union.
Want to learn all about the movers and shakers who built Seattle?
Why is Seattle home to so many successful companies like Boeing, Microsoft, Amazon and Starbucks? Why does it attract so many risk takers and innovators? MOHAI answers all these questions and more!
MOHAI is inside the old Naval Reserve Armory building in South Lake Union, near downtown Seattle, at 860 Terry Ave N, Seattle WA 98109. The MOHAI exhibits are spread over three floors, with a cafe and gift shop. Check hours & admission.
10 best things to do at MOHAI
1. See MOHAI's giant tower of Seattle memorabilia
The first thing you notice when you walk into MOHAI's great hall, is a giant tower of Seattle memorabilia.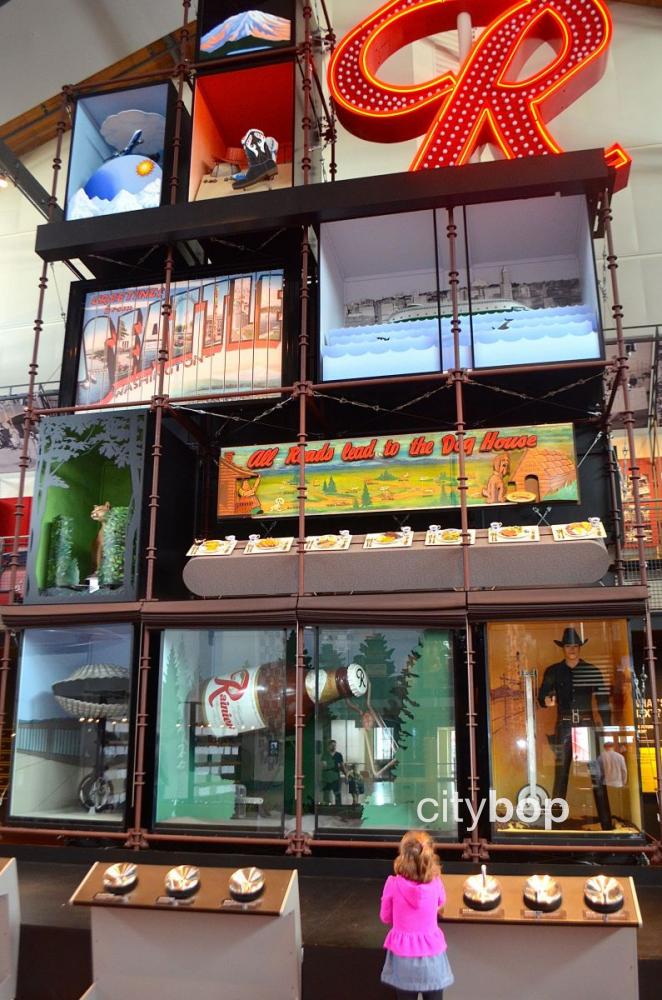 MOHAI: Seattle Memorabilia
Step in-front of the tower, and turn the wheels to activate the animatronics!
Light up the vintage Welcome to Seattle Postcard proudly displayed on Seattle billboards during the 1940s, or the red neon'R' sign at the top of the Rainier Brewery for 50 years on the way to the airport.
A few old timers mights remember the All Roads Lead to the Doghouse sign from the 1930s, on top of a burger joint at the start of the old Aurora speedway (now Highway 99).
Turn the wheel to raise and lower the quickdraw pistol on an old arcade game from Seattle's 1962 World Fair, known as Black Bart cowboy. Black Bart was an infamous California outlaw, who robbed 28 coaches between 1875 to 1883. You can also turn the wheel to open and close a giant clam, known as Ivar's Dancing Clam. Ivar's seafood restaurant was founded in 1938 by folk singer Ivar Haglund, and is one of Seattle's most famous restaurants.
2. Look up at a cool float plane from Seattle's South Lake Union
Float planes are still a common sight on South Lake Union directly outside MOHAI. If you look up at MOHAI, you can see a Boeing B1 Float Plane that used to fly mail between Seattle and Canada from 1921 to 1927. It made Seattle history when it first took off from South Lake Union as Boeing's first commercial plane.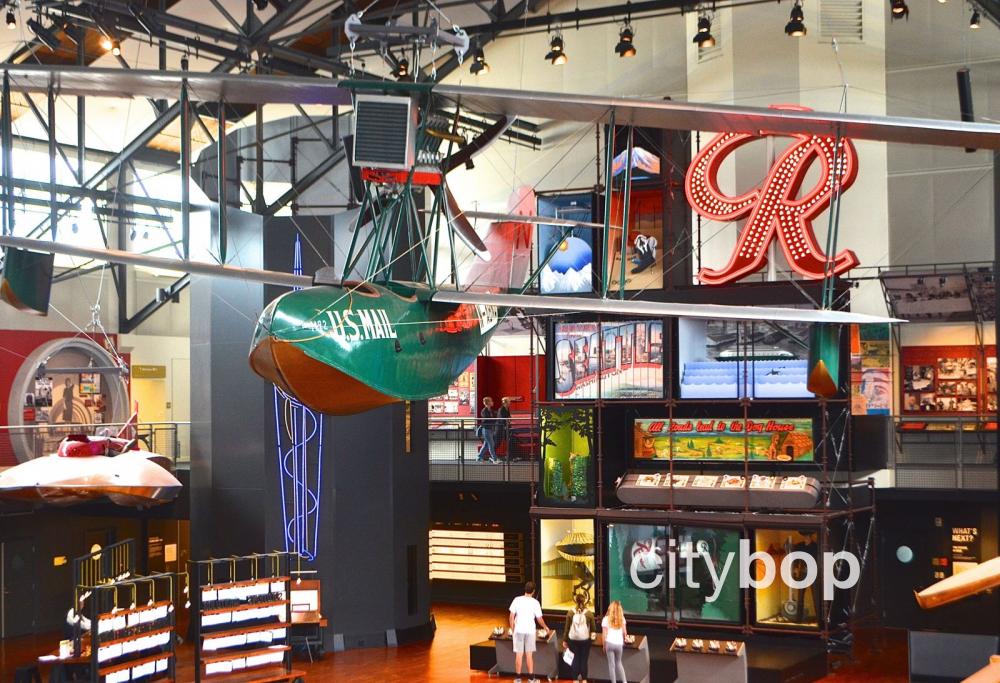 MOHAI: Boeing Float Plane
3. Learn about Seattle's Lusty Lady strip joint
Seattle has a seedy past, centered on the notorious Flesh Avenue along First Avenue in downtown.
Hotels sprung up along First Avenue from the 1890s onwards after the Gold Rush, attracting prostitutes who plied their trade out of cheap hotel rooms. In later years this strip evolved as a location for porn shops, tattoo parlors and peep shows. This area is unrecognizable now, and has gentrified with the swanky Four Seasons Hotel, Seattle Art Museum and modern condos.
One of the most famous businesses along this strip was The Lusty Lady. MOHAI Seattle has the famous pink marquee sign from this iconic strip club. This sign was a Seattle institution, displaying cheeky messages like the one in the photo below. The strip club operated in downtown Seattle from 1985 to 2010, and was managed by women only. The strippers performed in a mirrored room while patrons sat in booths watching them.
The Lusty Lady's demise was sealed by the 2008 recession and rise of Internet pornography. They also lost foot traffic when the nearby Washington Mutual went belly up in 2008, and thousands of employees lost their jobs.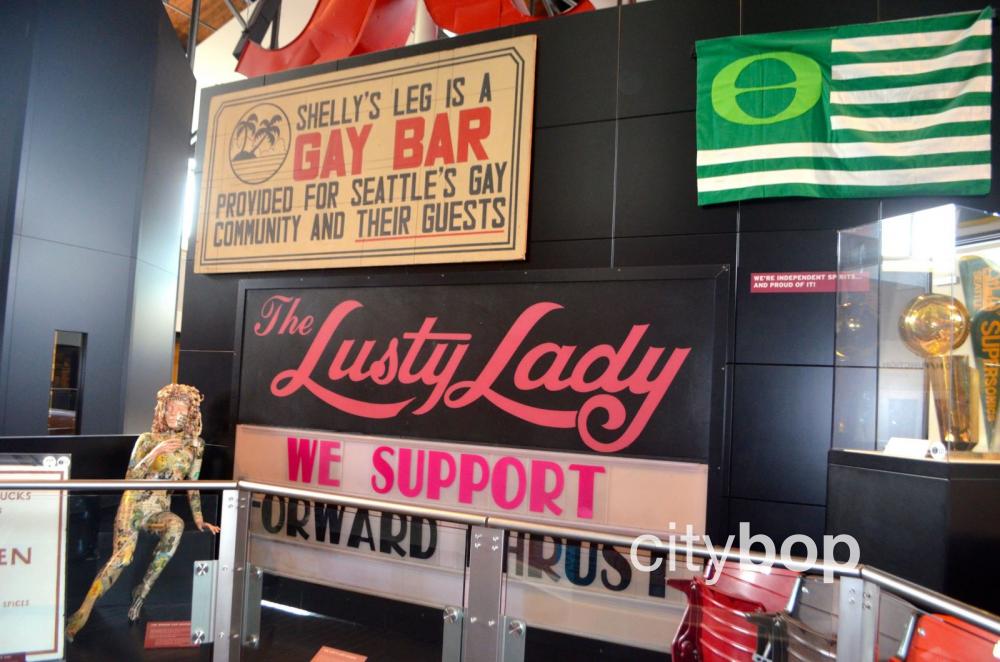 MOHAI: Lusty Lady
4. Go back in time to Seattle's first openly gay bar in the 1970s
The Shelly's Leg sign at MOHAI Seattle history museum is also iconic, and a big part of Seattle's history. Shelly's Leg was Seattle's first openly gay bar in Seattle, open for four years in the 1970s.
It's owner was the larger than life personality, Shelly Bauman. Shelly was a teenage runaway from Chicago who became an exotic dancer to make ends meet. However, in a tragic turn of events Shelly lost her leg in a freak accident at a Bastille Day celebration in Seattle in 1970. Her abdomen was shattered by a ball of congealed confetti recklessly fired from a cannon, resulting in a leg amputation. Shelly was awarded $330,000 in damages, and used the money to set up Seattle's first openly gay bar in Pioneer Square. The Shelly's Leg disco club had its own disc jockey and was the hottest ticket in town.
Shelly's bar was ground-breaking because of the sign now proudly displayed at the MOHAI Seattle history museum. The sign made Seattle history when it brazenly announced that "Shelly's Leg is a Gay Bar Provided for Seattle's Gay Community and Their Guests". This was a first for the small-town, conservative Seattle of the early 1970s. There were other gay bars around Seattle, but they operated covertly, and never put a sign out front explicitly stating they were a gay bar.
However tragedy seemed to follow the red headed, green eyed Shelly. In 1975 a fuel tanker derailed on the lower deck of the Alaskan Viaduct. Oil trickled onto the train and thirty cars below, causing a massive explosion, blowing out the windows in Shelly's club at 1am in the morning. Shelly's business never recovered.
5. See all the cool inventions that came out of Seattle
The Jeff Bezos Center for Innovation is on the first floor of MOHAI, and showcases all the big ideas that came from Seattle. It poses the interesting question: "Why has Seattle produced so many great companies?".
We all know about Microsoft, Amazon, Starbucks, Boeing Eddie Bauer, and UPS. But do you know about other great Seattle inventions?
For example, did you know the first doppler ultrasound was invented in Seattle in 1967? Or that a Seattle UW Engineer was the first to develop a device to clean blocked arteries in 1991? How about the first fiberglass skis developed in 1962?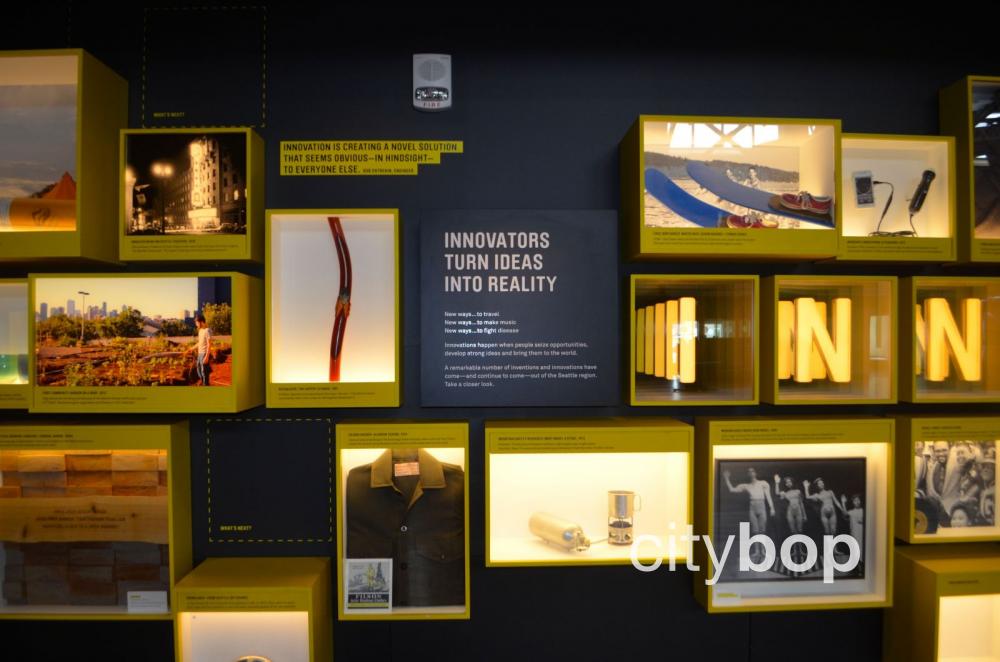 MOHAI: Bezos Center for Innovation
There's a really cool wall at MOHAI displaying other Seattle inventions.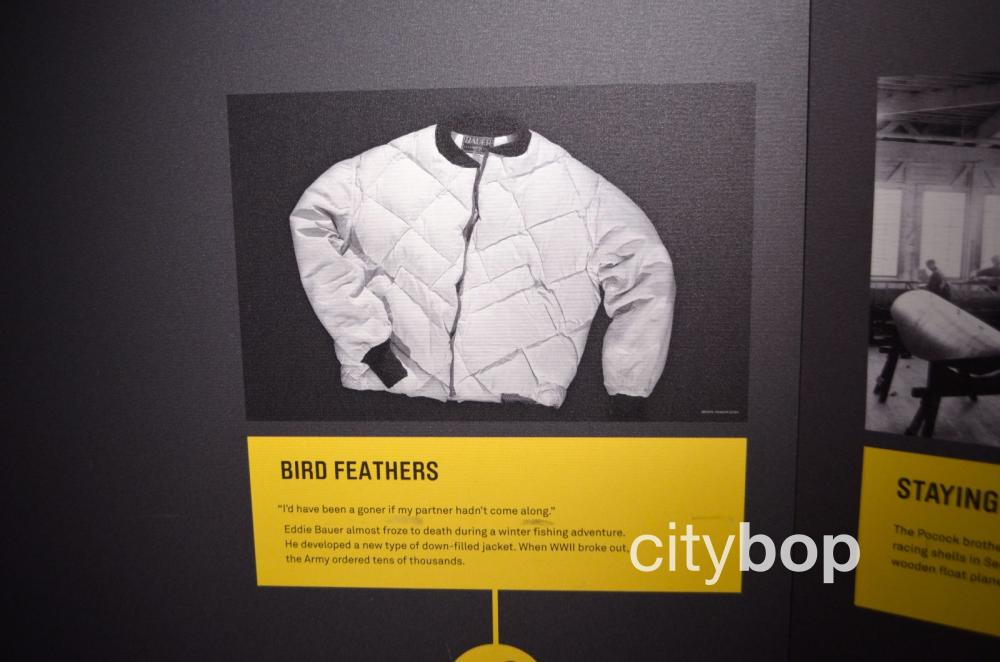 MOHAI: Eddie Bauer history
Eddie Bauer started up in Seattle. This is the first down filled jacket he developed for the Army during WWII. This jacket made Seattle history when it effectively launched the outdoor clothing industry.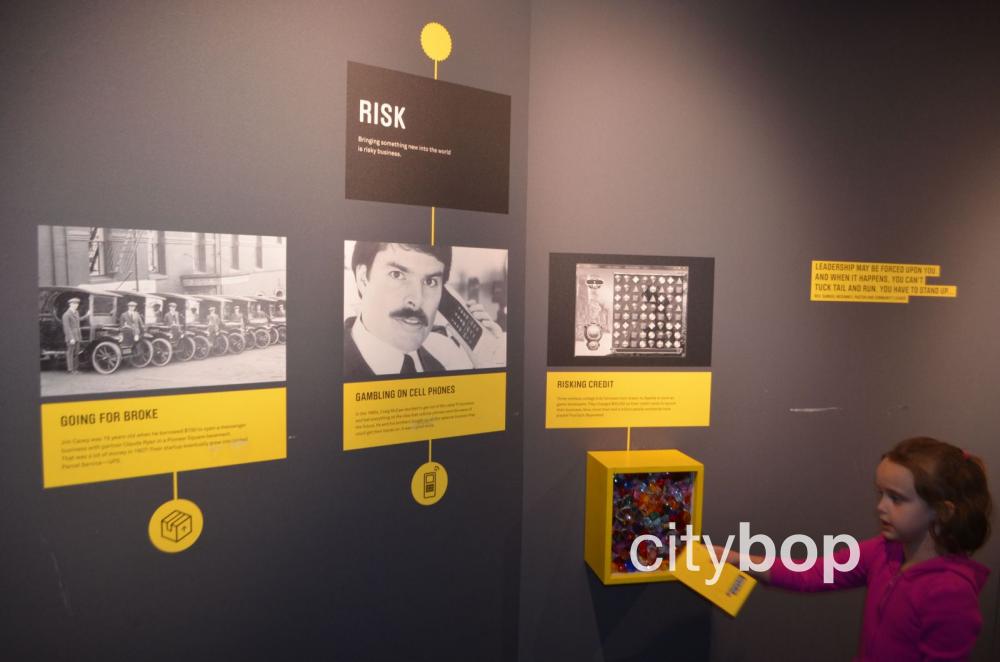 MOHAI: Craig McCaw
Craig McCaw of McCaw Cellular is another huge success story. His story is featured at MOHAI, and he grew up in Centralia near Seattle. In the 1980s he and his brothers were convinced mobile phones would be the next big thing, so they bought up all the cellular phone licenses and founded McCaw Cellular. In 1994 they sold it to AT&T for a staggering $11.5 billion.
The popular Bejeweled game by PopCap also originated in Seattle, and has a billion worldwide users. PopCap are still headquartered in Seattle.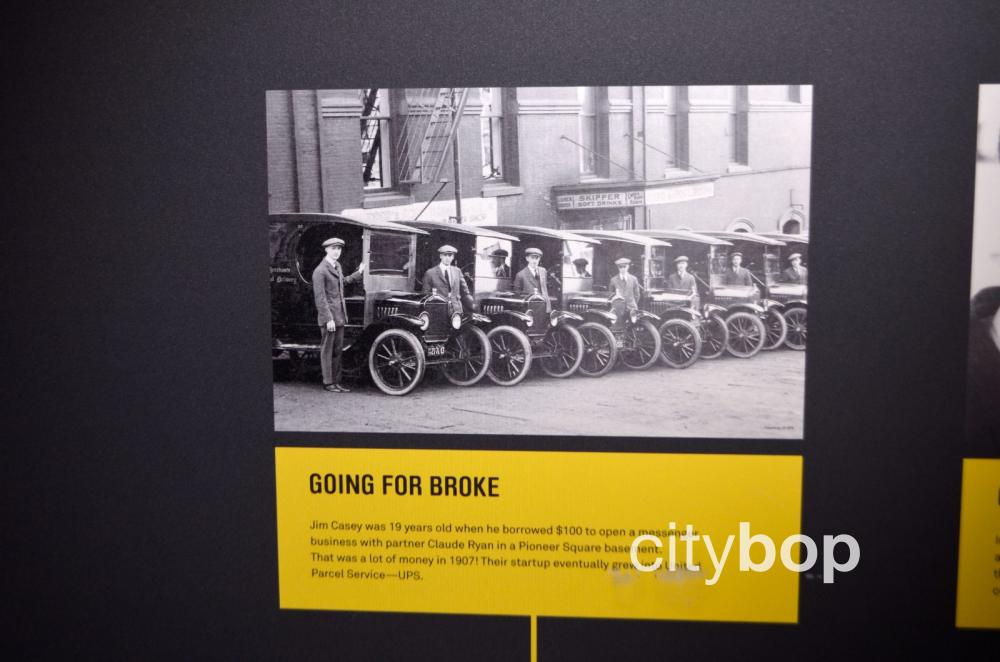 MOHAI: UPS History
It's also surprising to learn that UPS started in Seattle. In 1907 a teenager started up a delivery service in a Seattle basement, and the company later became known as UPS. Look at those old UPS vans in the photo at MOHAI with the skinny wheels. How did they make it up and down Seattle's hills? This is a fascinating part of Seattle history.
Some of Seattle's innovation has come from amazing partnerships. The MOHAI Seattle history museum has exhibits on these partnerships.
For example Bill Boeing partnered with Seattle's University of Washington (UW) to create the first aeronautics curriculum in the world. The UW agreed to create an aeronautical faculty as a talent pool for Bill's company if he built them a wind tunnel.
Did you know that Bill Boeing's first flight was in a double-seater float plane over Lake Washington in Seattle in 1915? That's where he caught the aviation bug and made Seattle history. This Seattle history museum has a large section devoted to Boeing.
6. Discover the origins of the Grunge Movement in Seattle
Even Seattle's Grunge Music Movement relied on team work. Seattle bands began sharing ideas with each other in the 1990's about a new sound. This led to the unique "Seattle Grunge Sound" that would take the world by storm.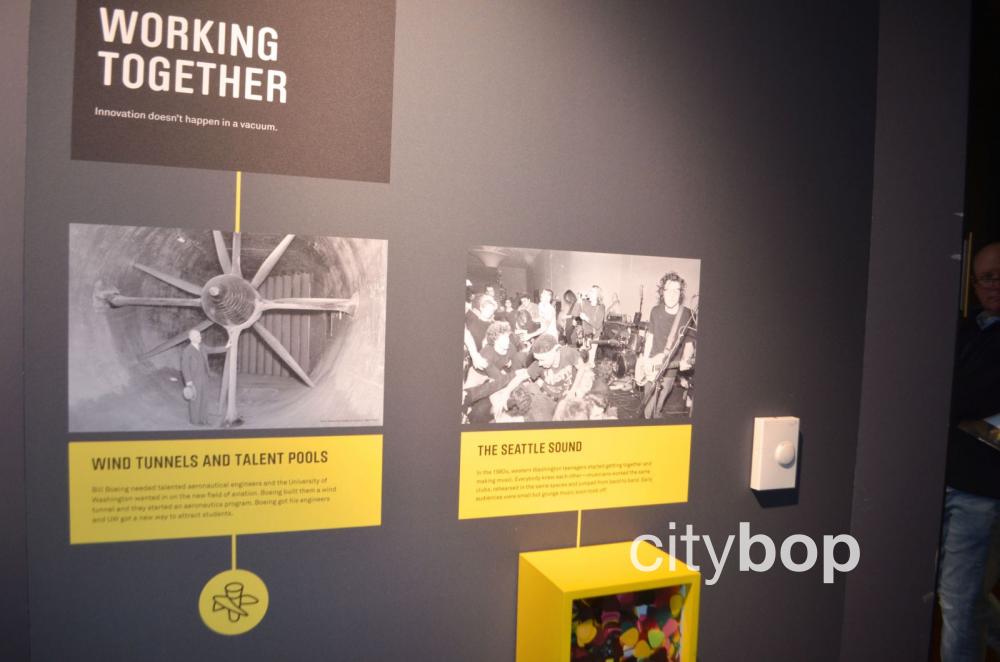 MOHAI: Boeing Wind Tunnel
7. Now it's your turn to innovate! What will the next big thing be?
MOHAI Seattle has a fun, hands on exhibit, where visitors can write innovative ideas on a card that gets rotated on a pulley system. Kids (and adults) love this!
What do you think the next big thing is going to be? What message of inspiration will you leave at this Seattle history museum?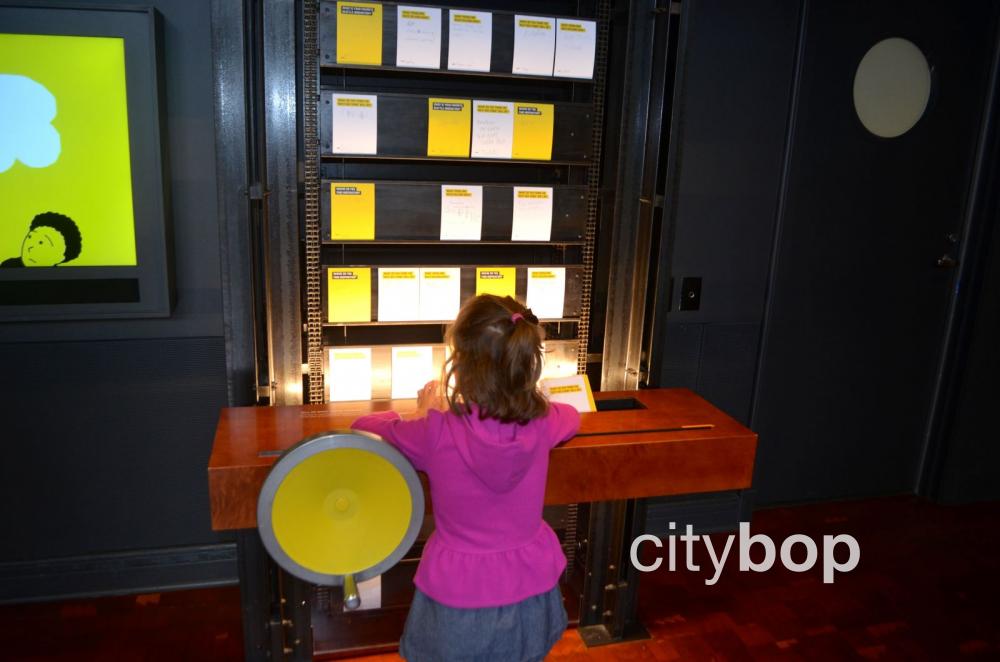 MOHAI: Innovation Wall.
8. Kids can also hang out in the fun room in the Kid Innovation Area at MOHAI, with building blocks, books and a tinker area.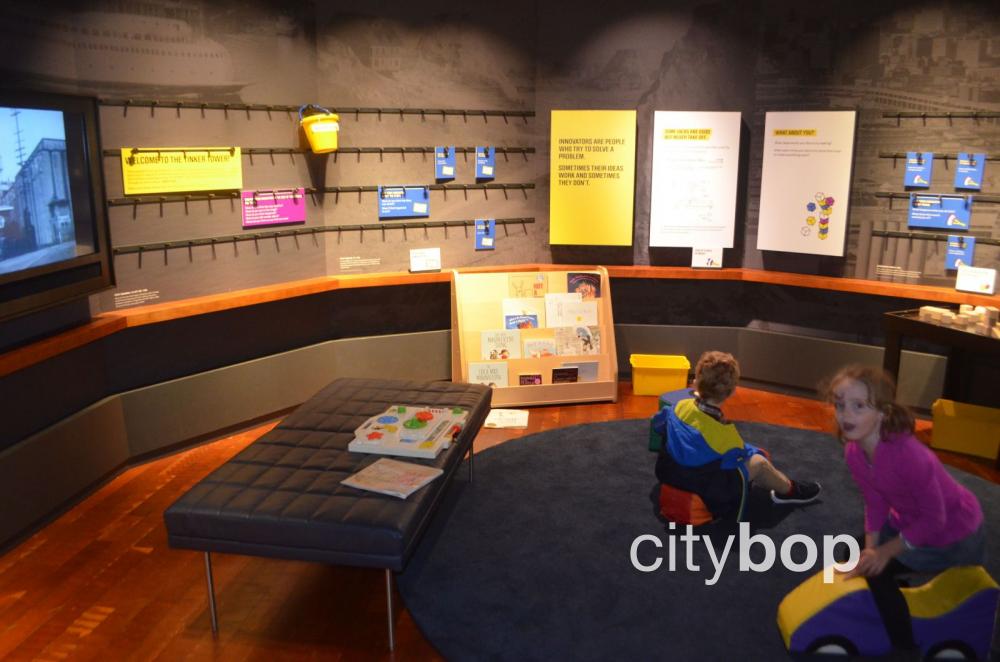 MOHAI: Kid Innovation Area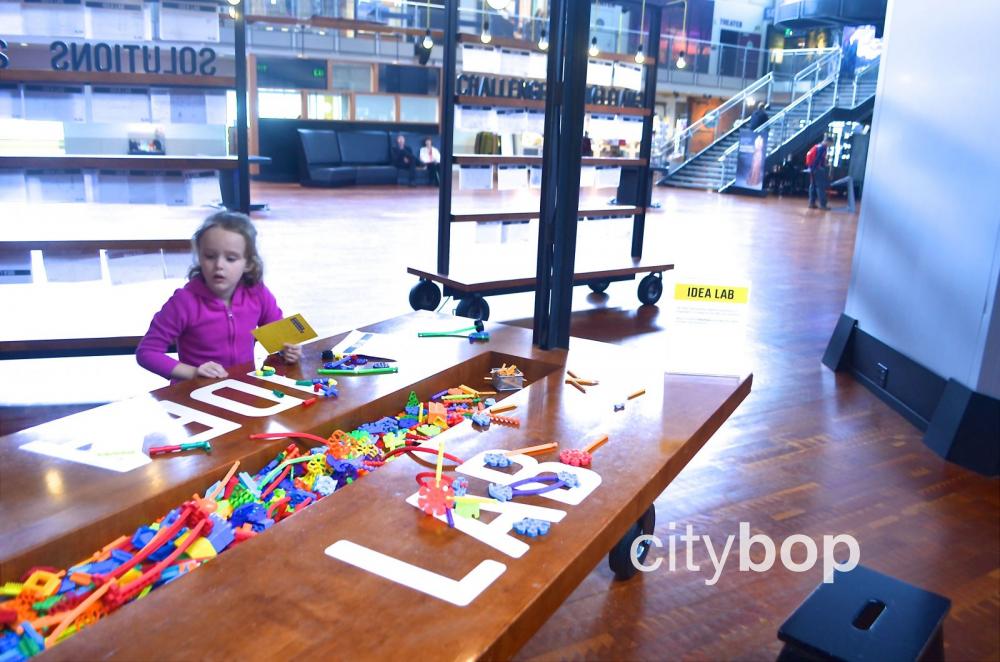 MOHAI: Kids Lab
9. Admire the stunning 54-foot Wawona Sculpture at MOHAI.
Walk across the main floor at MOHAI Seattle, to inspect the 54-foot high Wawona Sculpture.
It's made from wood salvaged from the 1897 Wawona schooner. This schooner transported lumber and fish along the West Coast of the US. Look up at the sculpture, is it supposed to be a tree, or the hull of a ship? Step inside and peer up at it's lofty heights, then look down through the window in the floor, to Lake Union.
10. See a cool theater show on the Great Seattle Fire that burned down the city.
Take the stairs to the second floor of MOHAI Seattle, to see the excellent 7-minute cinema presentation on the Great Seattle Fire. The fire burned 25 city blocks down on June 6, 1889, and was the worst day in Seattle history, started by an overturned glue pot in a carpentry shop.
MOHAI explains that major changes occurred as a result of the Great Seattle Fire. For example, a new Seattle Fire Department was created to replace the volunteer firefighter system. The wood framed buildings were also replaced with the brick buildings you see today in Pioneer Square. Some of these stunning buildings include the Yesler Building (1891), Maynard Building (1892) and Terry Denning Building (1898).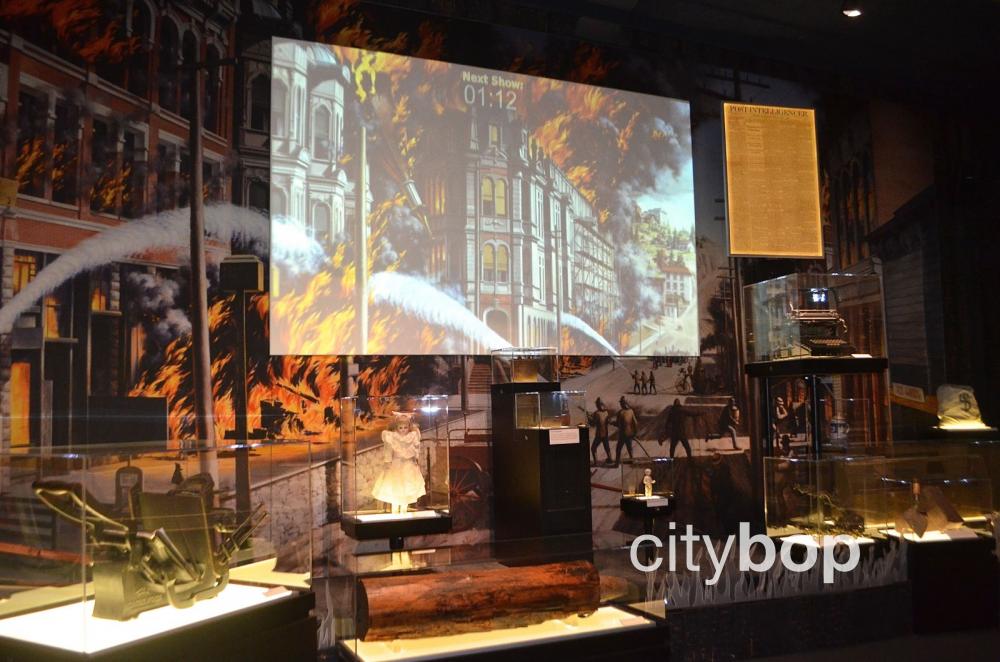 MOHAI: Great Seattle Fire.
The flashing lights and illuminated objects that accompany MOHAI Seattle's presentation are very theatrical. Kids will love this!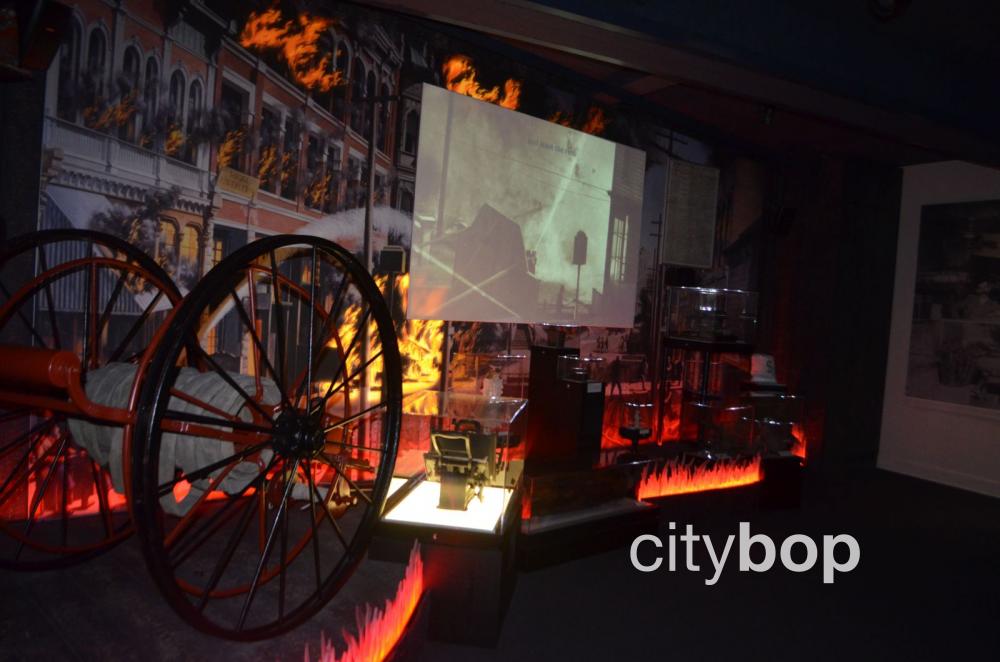 MOHAI: Great Seattle Fire 1889
The spectacular 10 by 24 foot mural by Ruddy Zallinger serves as a backdrop to the theater presentation, and was completed in 1953 to much fanfare. Zallinger worked off historic photos of Washington Street in Seattle to create this mural. Look closely at the mural to see Seattle's Second City Hall (Katzenjammer Castle) and Yesler Mansion.
11. Learn about Seattle's inspirational history in a 20-minute movie.
Watch a fantastic 20-minute cinema presentation at this Seattle history museum.
12. Discover how the first settlers radically changed Seattle's landscape, by leveling hills and carving out ship canals.
Explore the exhibit rooms on the second floor of MOHAI that follow a chronological timeline of Seattle history.
The "Seattle Journey" exhibition starts with the Duwamish Indians who inhabited this area for 10,000 years. Next up is the arrival of the first white settlers in Seattle. On November 15, 1851, the Denny Party landed at Alki Point in the rain, with just 22 settlers on board. They discovered an unfinished cabin. After a difficult winter they soon moved across the bay to present day Seattle.
Learn about how the first settlers radically changed Seattle's topography. Hills were leveled and mudflats covered by landfill. There were so many radical ideas on the table for developing Seattle. City planners once even considered filling in Lake Union!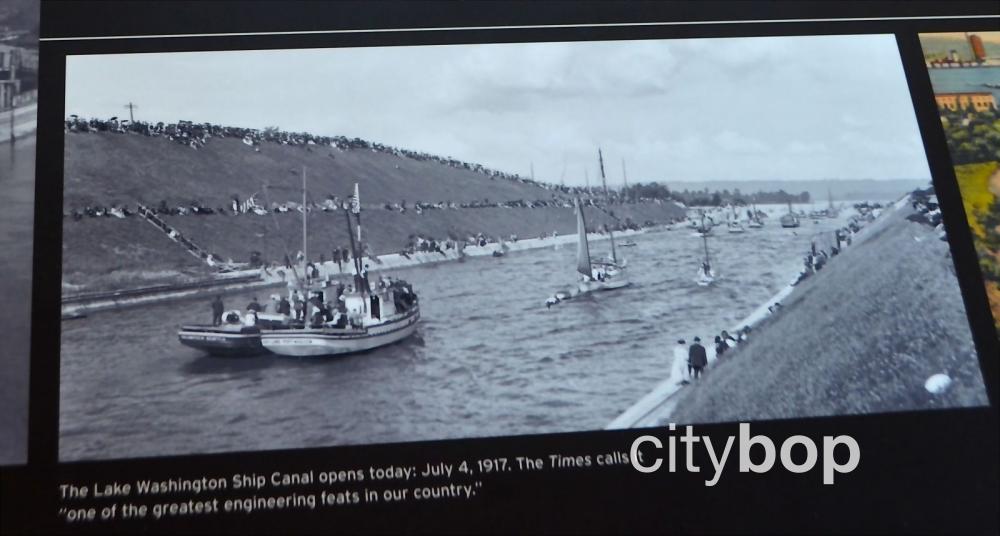 MOHAI: Lake Washington Ship Canal.
Seattle's two city lakes were connected to Puget Sound in a major engineering feat, by carving out shipping canals.
The Lake Washington Ship Canal opened in 1917, and was known as the Montlake Cut. It connected South Lake Union to Lake Washington in an important day for Seattle history.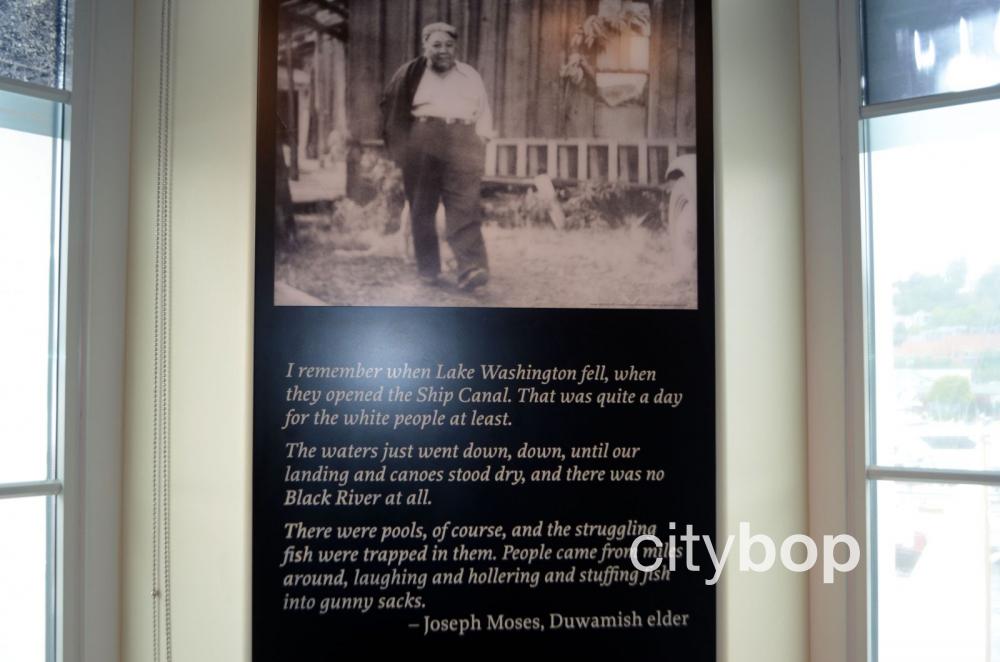 MOHAI: Duwamish Indians.
Lake Washington's level dropped dramatically, horrifying the Duwamish Indians who considered this sacred land. Read (above) what a Duwamish Elder had to say.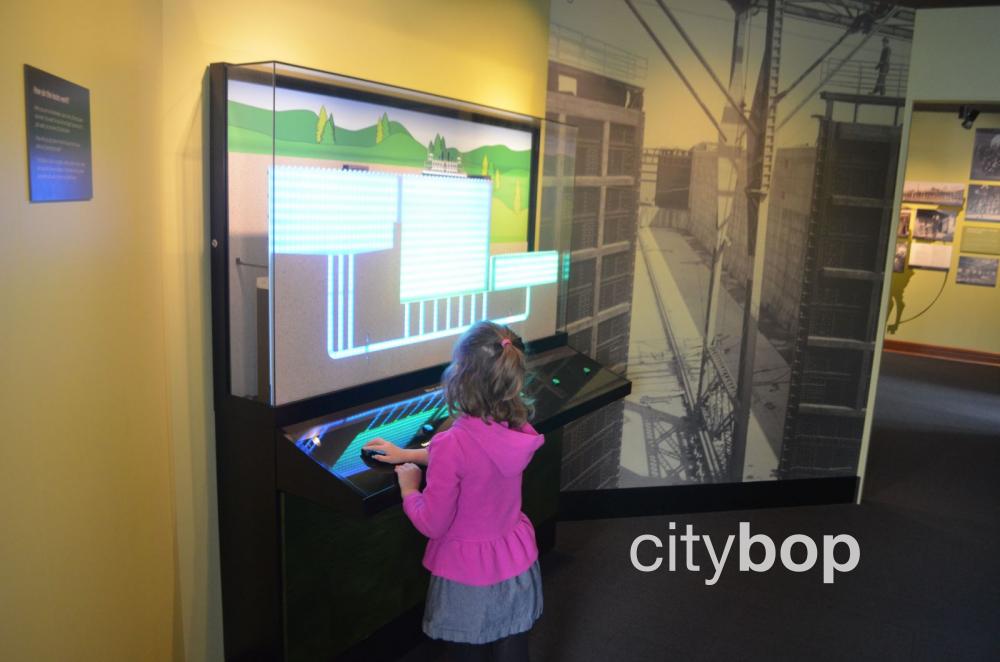 MOHAI: Seattle Locks.
There's an interactive display at MOHAI Seattle, that shows how water levels are adjusted at Seattle's locks.
13. Figure out how a railway was built through the Rocky Mountains, all the way to Seattle!
You can also learn about the early days of the Great Northern Railway running 8,316 miles from Minnesota to Seattle. It was an incredible achievement to build a railway through the rough terrain of the Rocky Mountains, and made Seattle history when it reached the city in 1893.
Kids can pick up hammers and bang on the spikes. It's fun and incredibly noisy.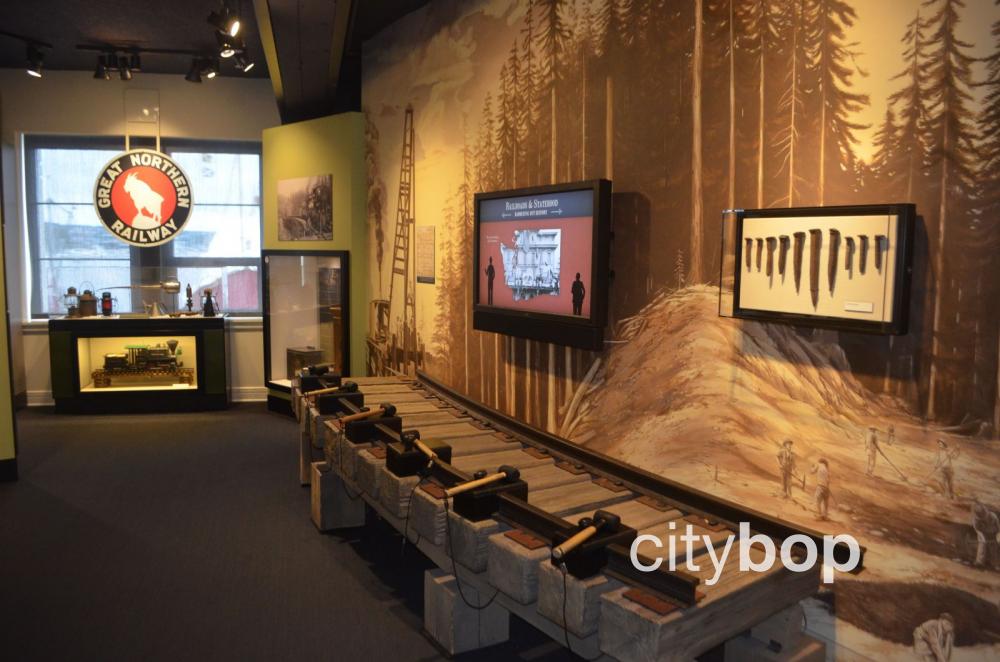 MOHAI: Great Northern Railway.
14. Go back to an era of horse drawn railway cars, and streetcars in Seattle
You can also learn about Seattle's first public transportation system. Imagine a city with horse drawn railways cars in 1884, then streetcars and cable cars in later years. By the 1940s these were replaced with buses.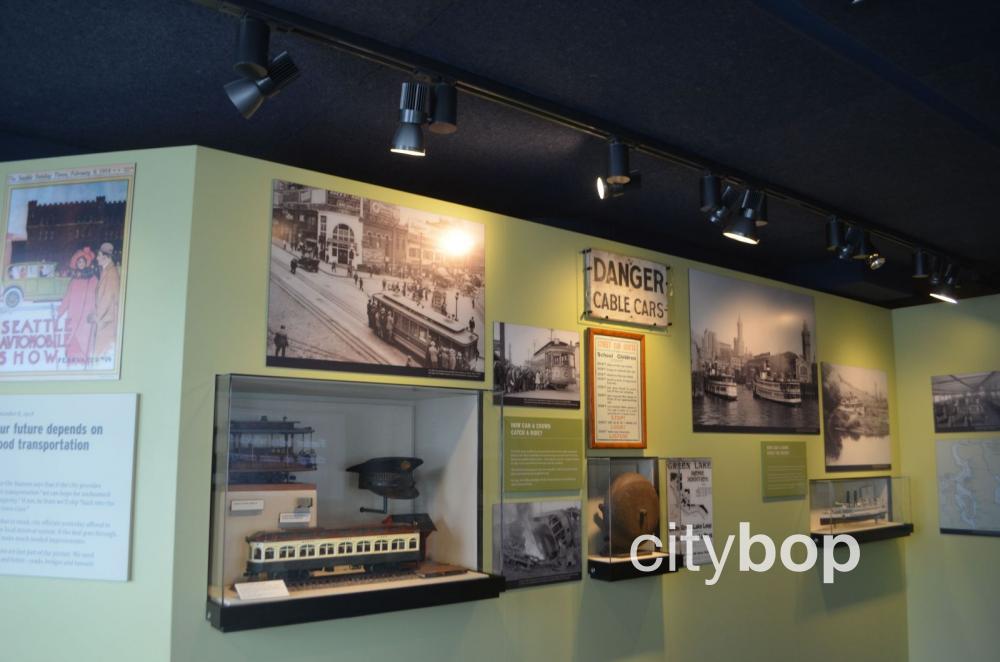 MOHAI: Seattle Cable Cars.
15. Discover how the 1909 World Fair put Seattle on the map.
Have you ever visited the University of Washington to see the gorgeous buildings and landscaping from this fair? The stunning Drumheller Fountain in the Central Plaza is a must-see. MOHAI Seattle has a vintage photo of the Central Plaza, with views out to Mount Rainier known as the Rainier Vista. The Architecture Hall and Cunningham Hall are the only buildings left standing from the fair.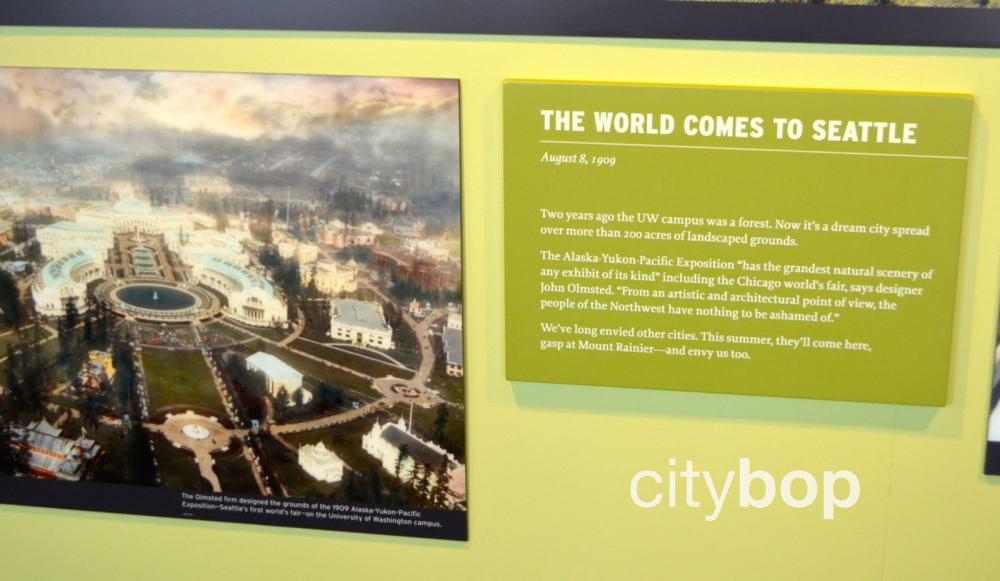 MOHAI: Seattle World Fair
16. Learn why Seattle has always had a boom-bust cycle.
MOHAI does a great job of conveying Seattle's curious Boom-Bust cycle.
Some of the Boom times included the Klondike Gold Rush of the 1890's, and Boeing's rapid expansion during the Depression. Boeing was thriving when other businesses were failing. By 1934 it had 2,000 employees on it's payroll and operated both a mail and passenger service.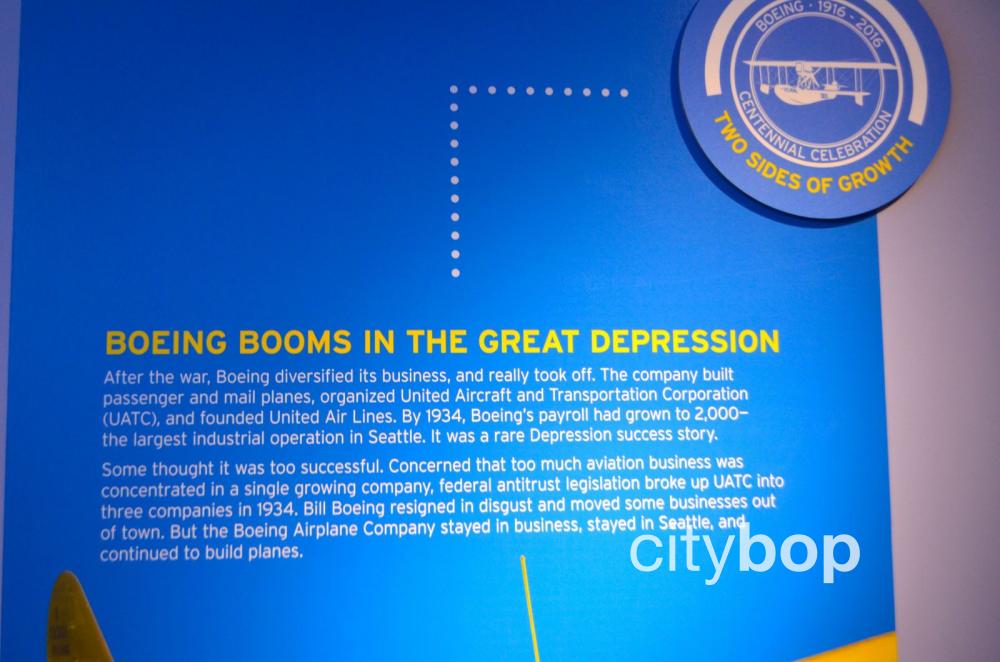 MOHAI: Boeing History.
Boeing was later broken up into three companies after Federal Anti-Trust legislation. The passenger service is now known as United Airlines.
Today the Boeing Company has 137,000 employees, and is a big part of Seattle history. Learn about Boeing's history at the Museum of History and Industry Seattle.
Boeing employees telling their stories at MOHAI (Museum of History and Industry Seattle).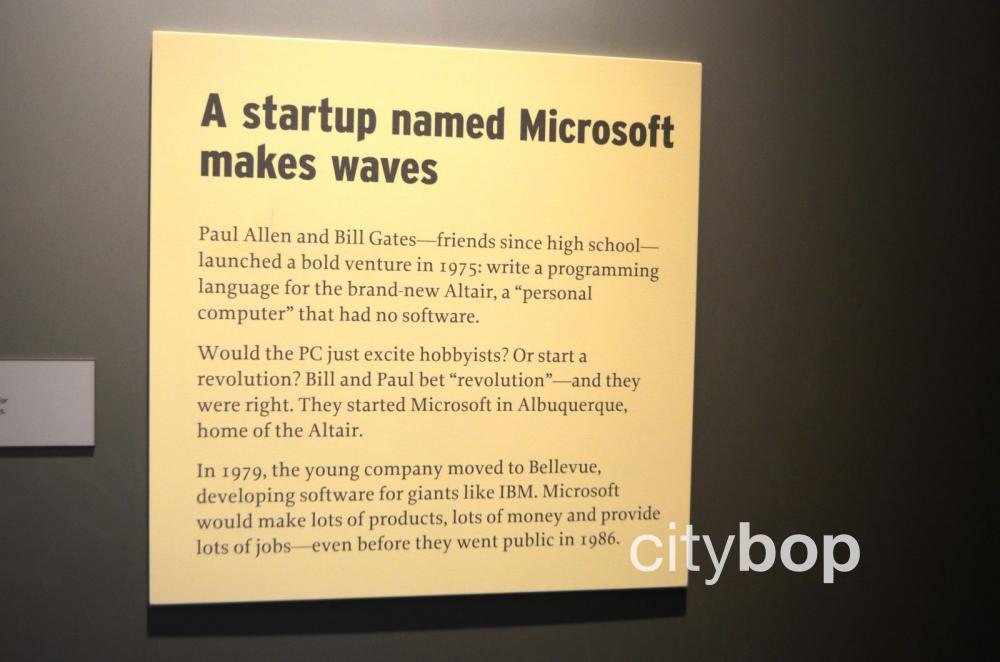 MOHAI: Microsoft History.
MOHAI Seattle also covers the tech explosion in the 1980s and 90s led by companies like Microsoft and Amazon.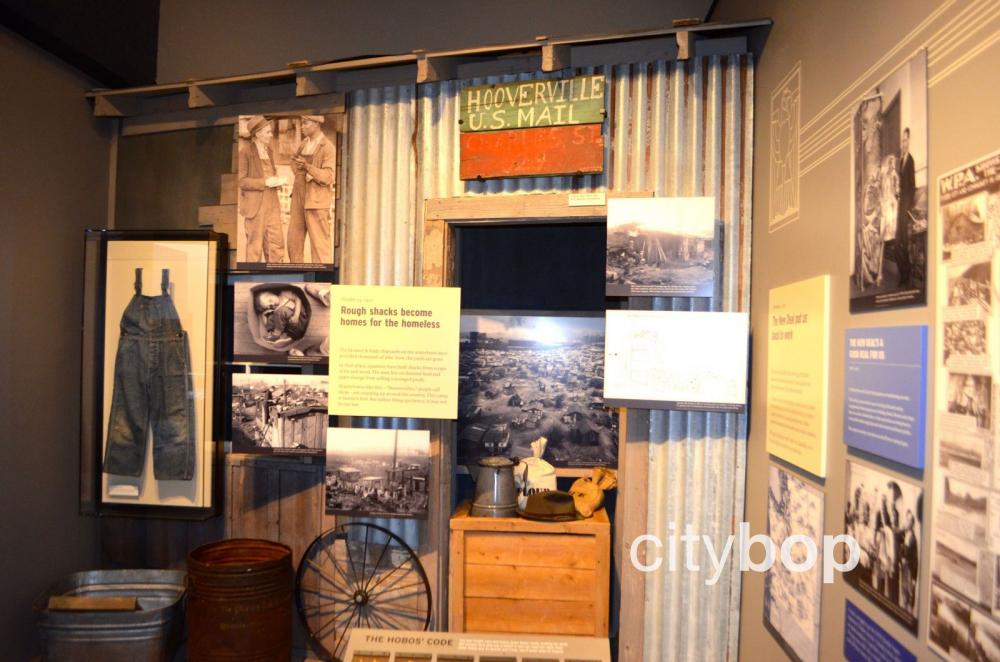 MOHAI: Seattle Hooverville.
There are also reminders of Bust times at this Seattle history museum. One of the worst periods in Seattle history was the Great Depression of the 1930's.
There were shanty towns or "Hoovervilles" in Seattle. Tiny shacks were built on a 9-acre tract of land on the tidal flats near Centurylink Field. It's estimated that 1,000 people lived full-time there. There were Hoovervilles in other parts of Seattle too, but most of the shacks were destroyed by the early 1940s.
The Boeing layoffs between 1969 to 1971 also sent the local economy into recession. Over 43,000 Boeing employees lost their jobs. There was a famous sign near SEATAC in 1971 that said "Will the last person leaving Seattle turn off the lights". That's how bad the Boeing Bust was. This was a dark time in Seattle history.
17. See how earthquake prone Seattle is.
The backdrop to all of this innovation is the looming threat of a major natural disaster in Seattle. This message is driven home by the crushed car on display at MOHAI from the 6.8 magnitude Nisqually Earthquake in 2001. The Earthquake lasted for 45 seconds, and Pioneer Square was hardest hit. It caused $2 billion in damage and injured 200 people.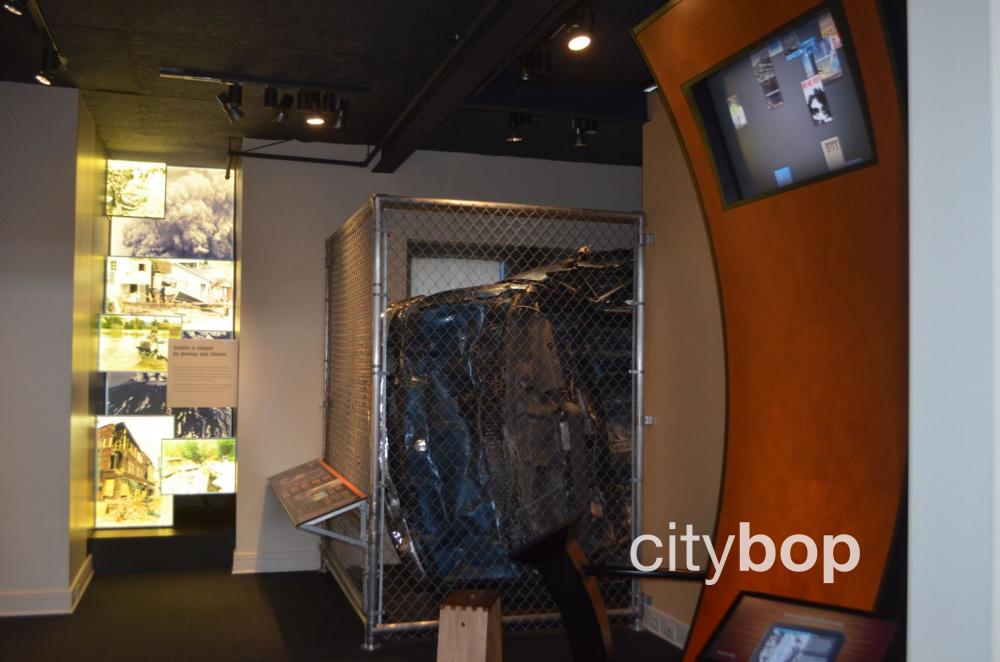 MOHAI: Nisqually Earthquake.
Look at the crushed car that was destroyed by falling bricks from a building in Pioneer Square. You can check it out at the Museum of History and Industry Seattle.
There's an 80% chance of another such earthquake in Seattle in the next 50 years. Apparently Seattle has 1 to 5 small quakes a month. There's even an active fault-line running between downtown Seattle and Lake Washington out to Bellevue.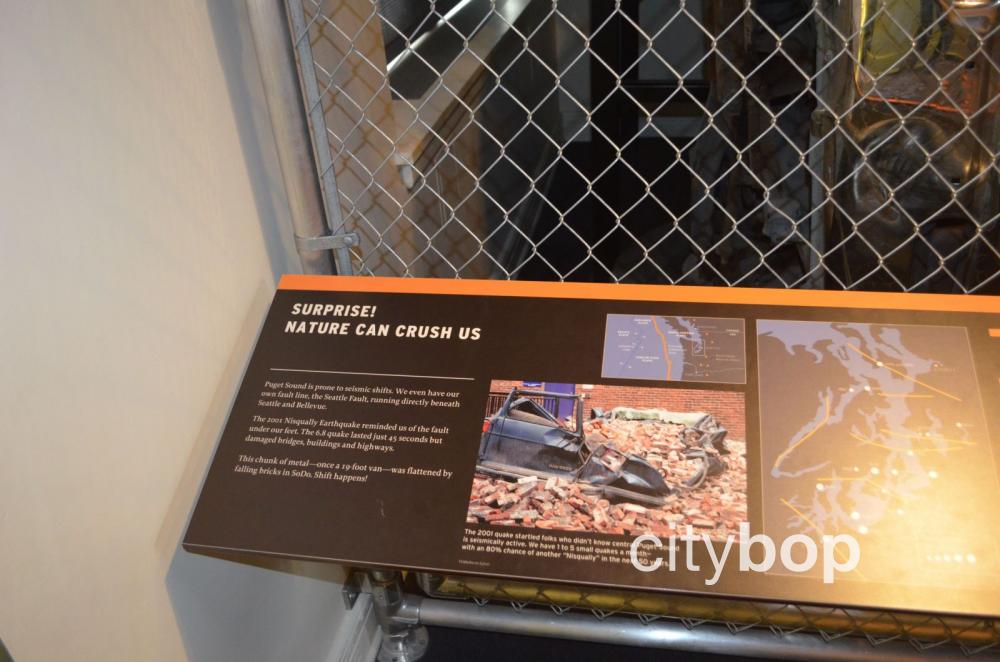 MOHAI: Seattle Fault Line.
18. Walk to the top floor of MOHAI to peer through a periscope.
The top floor of the MOHAI has a Maritime Exhibition in the bridge room. Peer through a periscope with views of the city!
You can also see an 1885 fresnel lens from the Smith Island Lighthouse. Smith Island is west of Whidbey Island in Washington State. This tiny island has dramatic 60-foot cliffs. The lighthouse toppled into the water off an eroded cliff in the 1980s, but some of the lighthouse keepers quarters are still standing there today.
19. Relax in the Mohai Cafe.
Visit the cafe overlooking the ships docked at the waterfront at the MOHAI Seattle History Museum.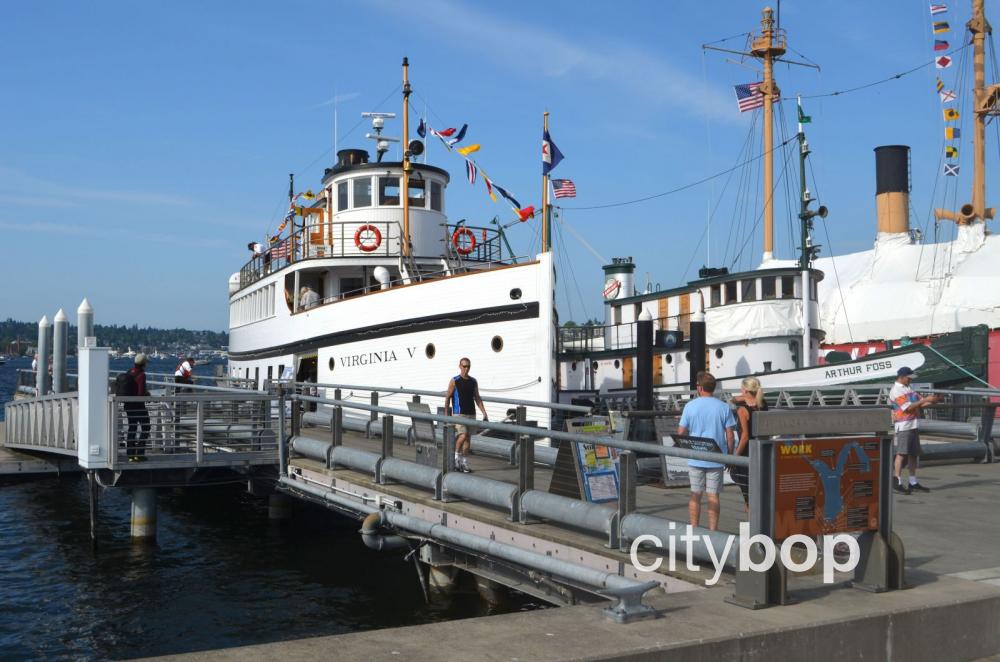 Virginia V Steamer Seattle
On the left of the photo you can see the Virginia V steamer (1922) which is FREE to tour. Check hours. This steamer was part of a mosquito fleet of boats that transported passengers around Puget Sound.
Next door to the steamer is the Arthur Foss tugboat (1889). Re-live a part of Seattle history by booking the boat for an overnight stay.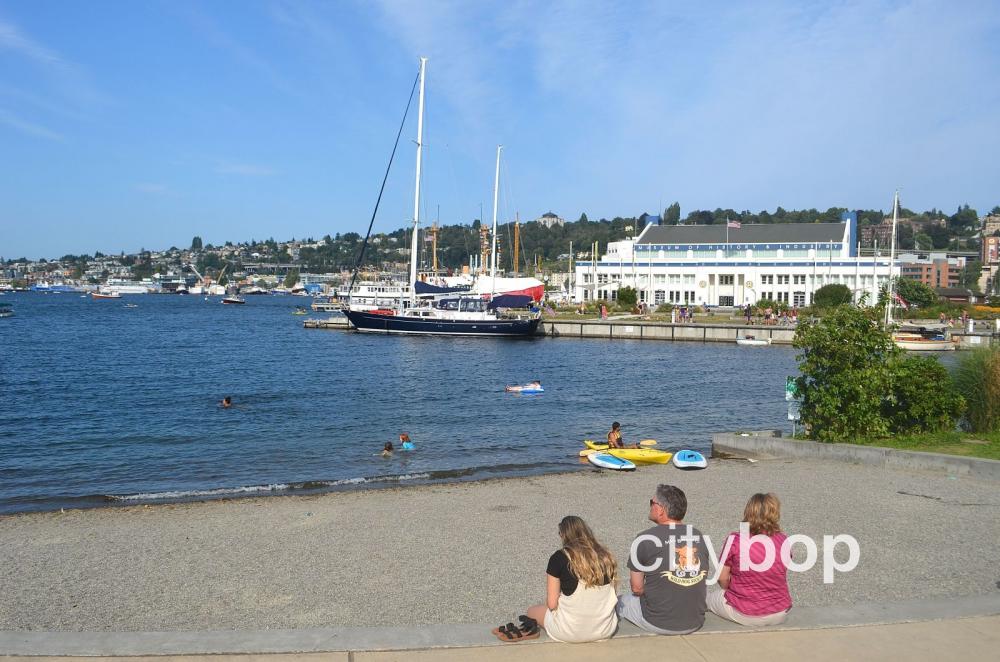 MOHAI Building.
This is MOHAI from a distance. It's the big white building that used to be the old Navy Armory. The tall ships are docked in-front of it.
20. Find waterfront restaurants near MOHAI.
Explore a great selection of waterfront restaurants near the Museum of History and Industry Seattle (MOHAI). These include Duke's Seafood and Chowder (pictured below), Daniel's Broiler, I Love Sushi, and The White Swan Public House.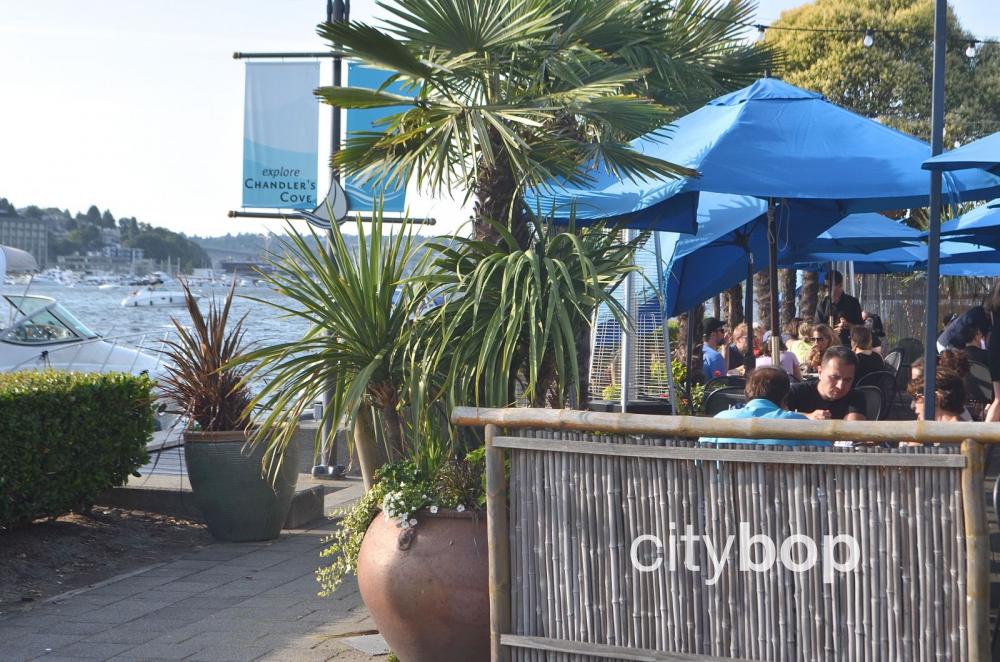 South Lake Union Restaurants
Know before you go
Address: 860 Terry Ave N, Seattle WA 98109.

Hours and tickets:

check

here

.

Cafe:

Mohai Cafe.

Gift shop:

yes.
Other fun Seattle museums to visit.
Explore some more Seattle History Museums.
Drive to historic Pioneer Square just south of downtown to see the Klondike Gold Rush Museum or Bill Speidel's Underground Tour.
The Wing Luke Museum is in China Town next to Pioneer Square. This 60,000 square foot space has excellent exhibits on the Asian-American Seattle history immigrant experience.
Twenty minutes north of Seattle's downtown the Nordic Museum has a gorgeous new space in Ballard. The neighborhood of Ballard has deep roots in the Nordic community.
More Museums in Seattle