Alki Beach is Seattle's most popular sandy beach, 25 minutes from downtown.
Alki Beach is a great escape from Seattle's bustling city life, and has an authentic beach town vibe that feels miles away from city life.
It's best to visit during warmer months when Alki Beach is full of activity. Watch volleyball games on the sand, people frolicking in the waves, and others zipping past on their rental bikes.
The beachside path along Alki Avenue SW is perfect for strolling, biking and people-watching.
Leave Alki feeling relaxed and rejuvenated.
10 best things to do at Alki Beach
Take a fun water taxi to Alki: Take a water taxi from Pier 50 on the Seattle Waterfront, to Seacrest Park in West Seattle near Alki Beach. Check schedules.

Walk the Alki Avenue beachfront path: Walk 1.7 miles along Alki Avenue SW to enjoy beachfront views. Start at Luna Park and continue west to the Stone Honoring Chief Seattle.

Rent a bike at Alki Beach: Bike rentals are available along Alki Avenue SW at Wheel Fun Rentals.

Have a beach day: Grab some sand toys for the kids and an umbrella and spend the day at Alki Beach. There are no lifeguards on duty. The water temperature ranges from 46 degrees in winter to 56 degrees in summer.

Celebrate a special occasion at Salty's Restaurant: Salty's Restaurant is fabulous dining option for special occasions. Its views are unparalleled, especially with Seattle's twinkling city lights across the water at night.

Tour the Alki Lighthouse: Alki Lighthouse is open for tours on weekends, from June to August, 1:30 to 4pm. The Alki Lighthouse was built in 1913, and is located at Alki Point at the entrance to Elliot Bay. Drive to the end of Alki Avenue SW to the Coast Guard Station. Call 206 841 3519 for more information.

Eat at Alki Beach cafes: Stop at casual beach cafes and restaurants along Alki Avenue at Alki Beach, with a range of outdoor dining options. Some favorites include Dukes Chowder House, and the fun Cactus Alki Beach (mexican). West Seattle Brewing also has a great atmosphere and is a nice place for a drink.

Get a coffee: Get your caffeine fix at Ampersand Cafe, with lovely views of Alki Beach and an outdoor patio.

Enjoy an icecream: Stop at Homefront Smoothies & Icecream for a sweet treat.

Visit Lincoln Park & Colman Pool: Visit Lincoln Park, just 10 minutes south of Alki Beach. This is a truly beautiful area with some forested trails, beaches and water views. There's also a splashpad and playground for kids. Colman Pool is open during summer months. It has an incredible location on the waterfront overlooking the beach.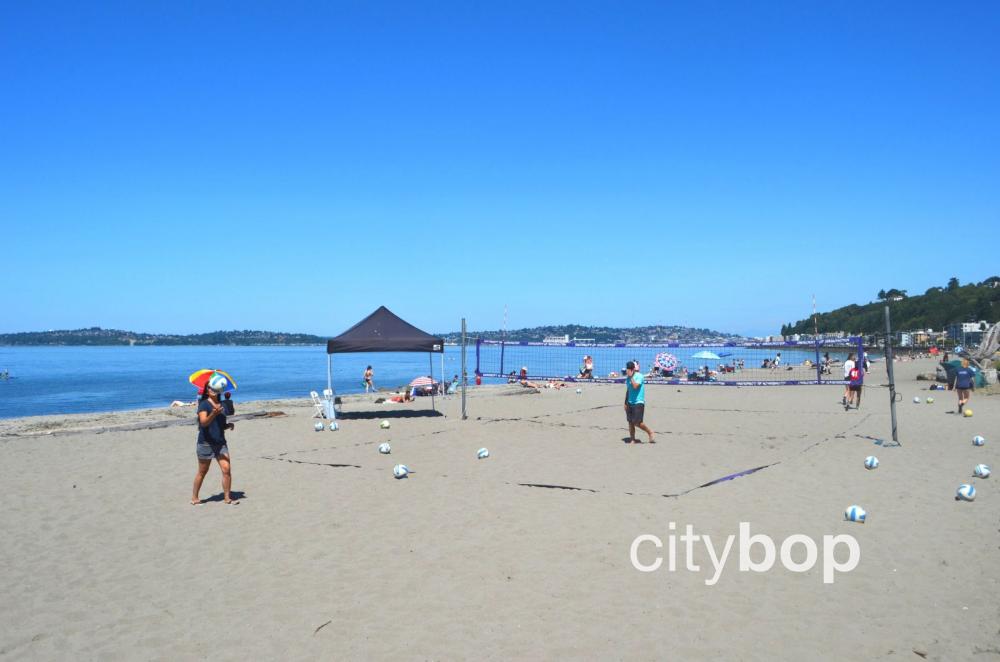 Volleyball is very popular on Alki Beach.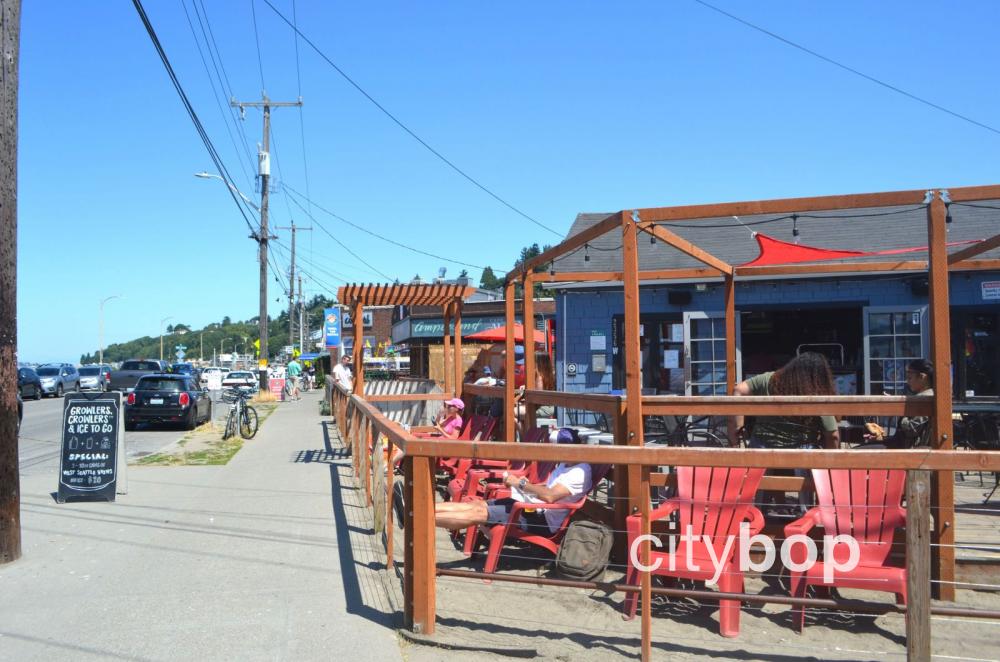 Awesome views from West Seattle Brewing.
More Beaches in Seattle