Edmonds is a waterfront town 30 minutes north of Seattle on Puget Sound, with soaring views of the Olympic Mountains. It has a charming downtown area, sandy beaches, and a thriving arts scene.
15 best things to do in Edmonds
1. Downtown Edmonds
Edmonds has a beautiful downtown area that is extremely walkable. The main shopping area is along Main Street, extending all the way to the waterfront and Ferry Terminal.
Start at the charming fountain at the corner of Main Street and Fifth Avenue (see photo above). From here you can explore Edmond's tree-lined streets, full of restaurants, cafes, galleries, art supply stores, boutiques and wine bars.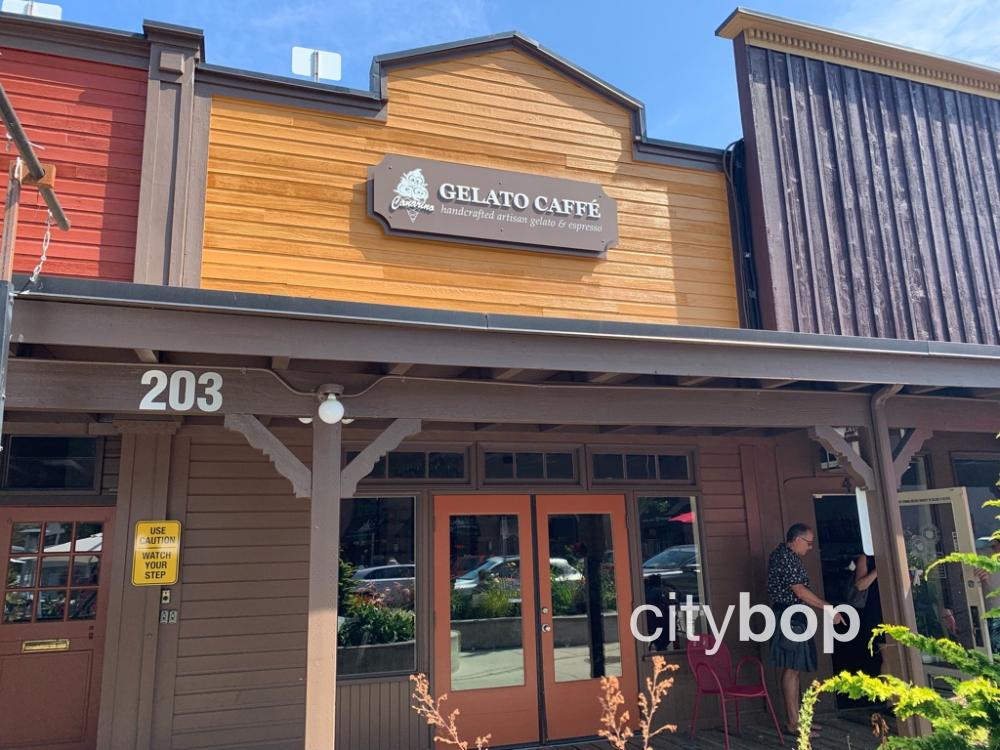 Enjoy coffee and treats at Gelato Caffé at the lovely Hazel Miller Plaza on Fifth Avenue in Edmonds.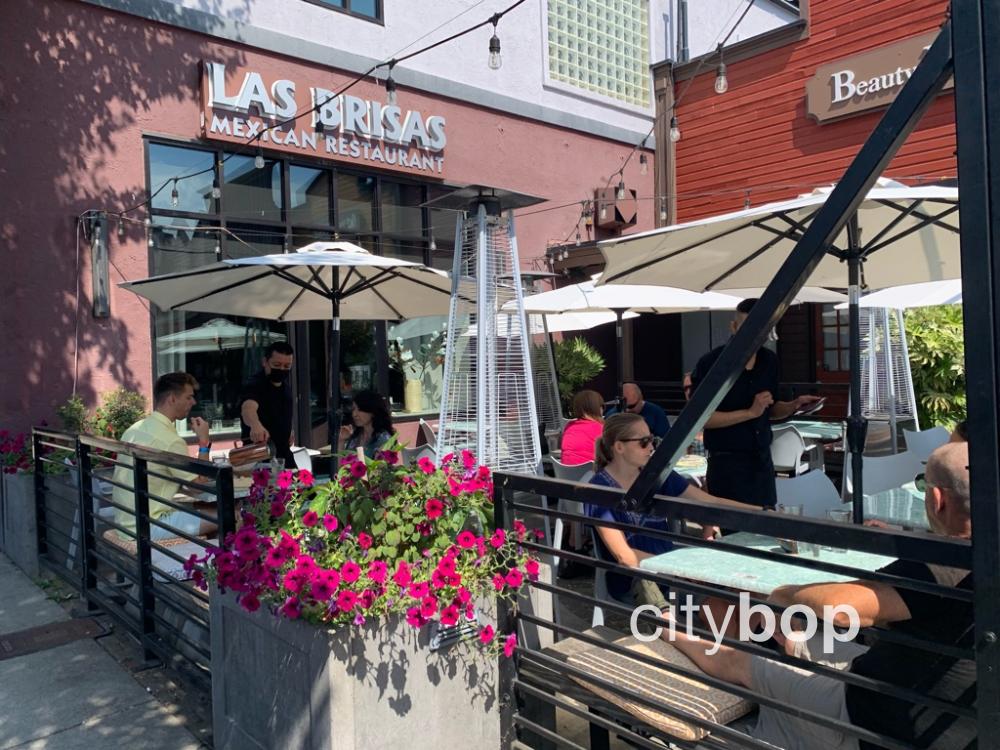 Savor delicious Mexican food at Las Brisas next door.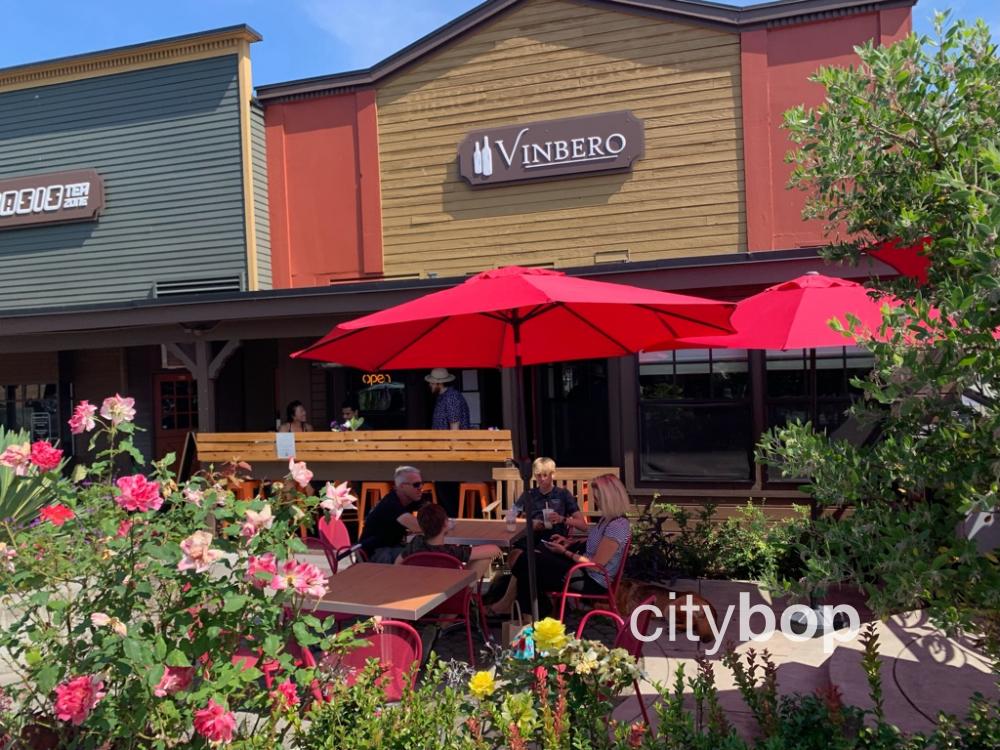 Sample some wines, salads and charcuterie at Vinbero, also at the Hazel Miller Plaza in Edmonds.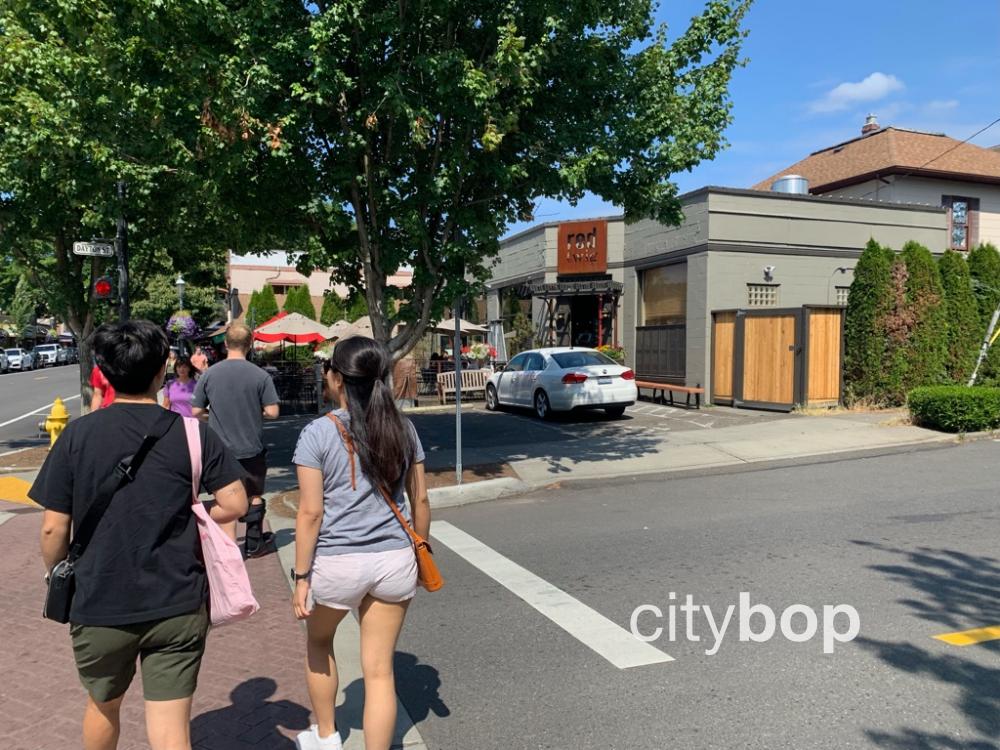 Eat a delicious breakfast or lunch at Red Twig Café, with fresh pastries, quiche, and pies, made from scratch.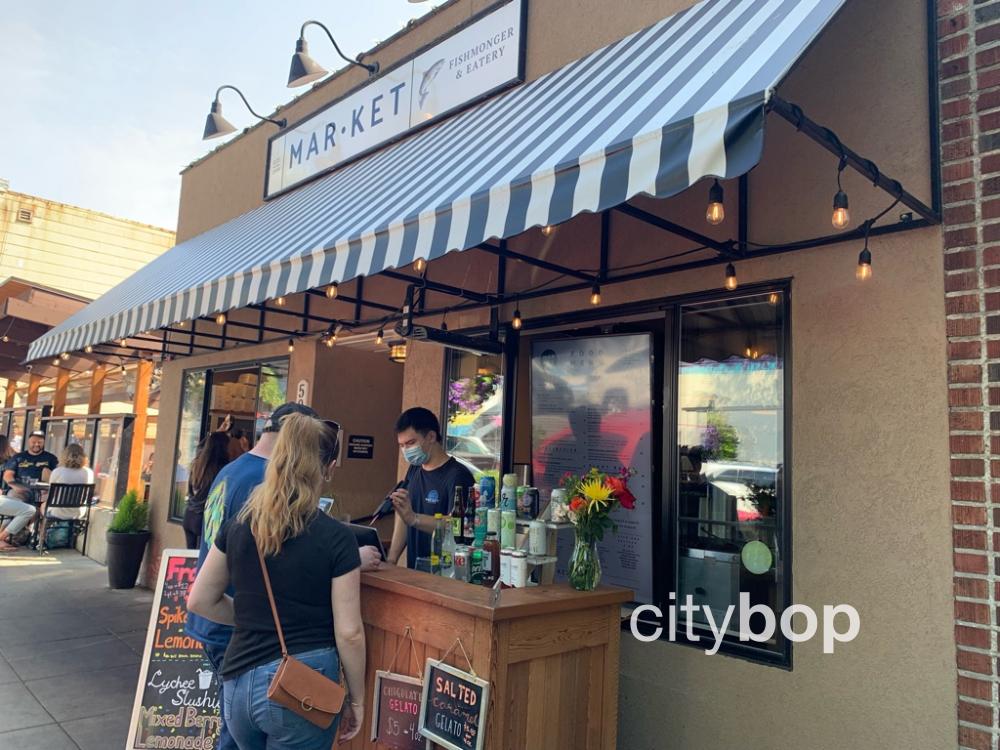 The Market Fishmonger and Eatery has a walk up window with fresh fish, straight off the boat.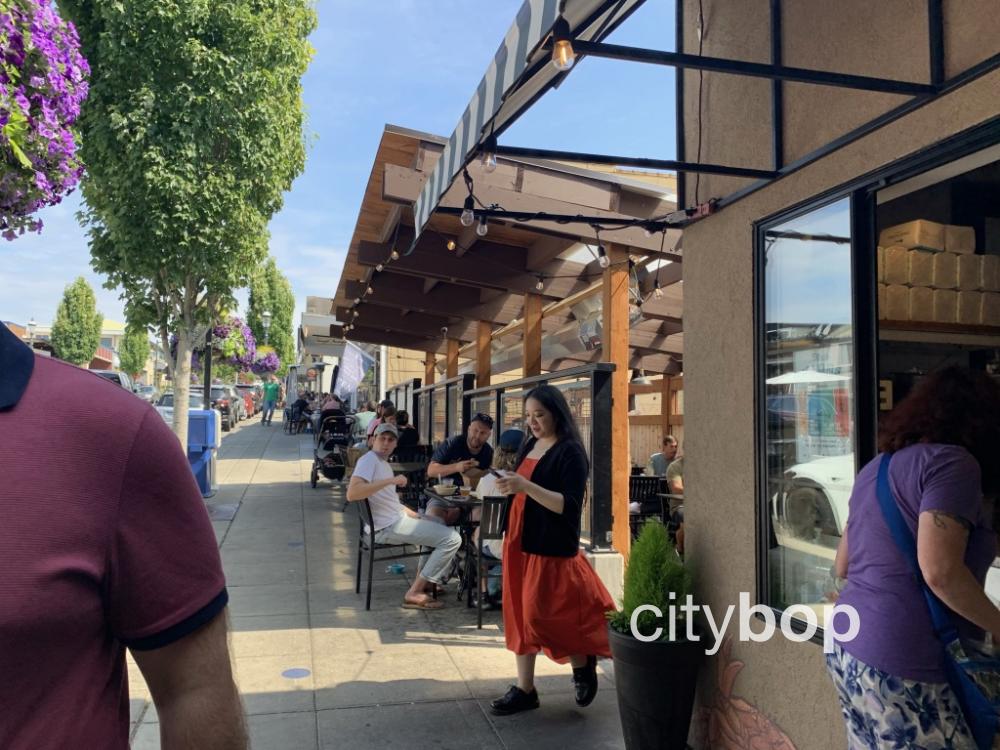 The Market Fishmonger and Eatery also has a heated outdoor seating area, where you can enjoy fish and chips, chowder and oysters, washed down with beer or wine.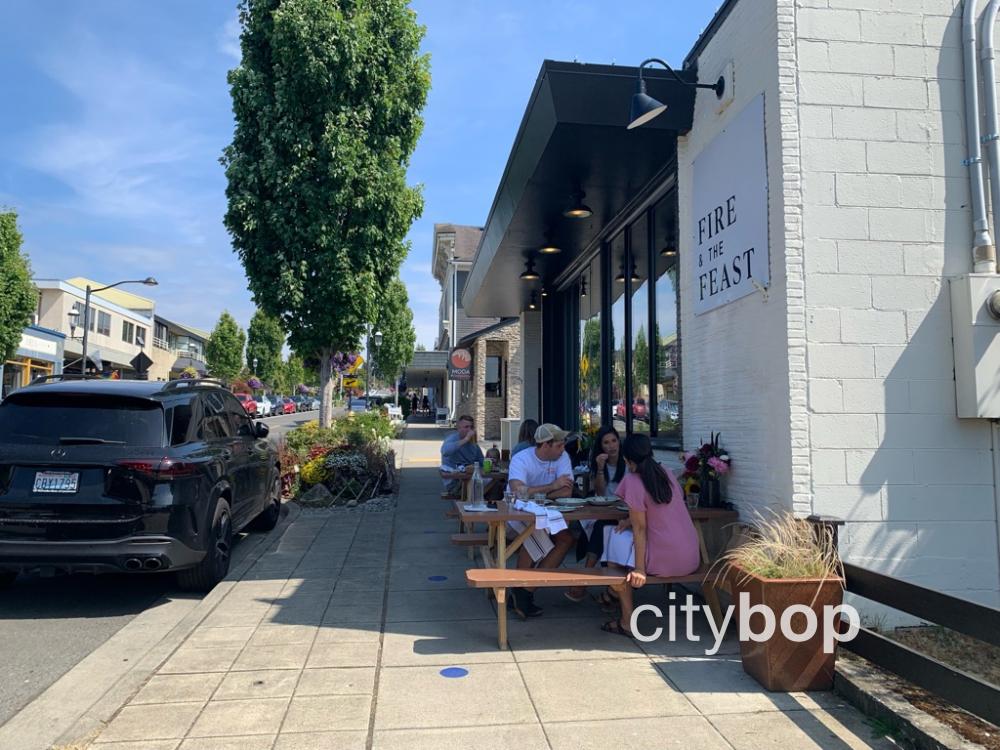 Sample some delicious Italian food at the stylish Fire and the Feast in Edmonds, with a menu for kids.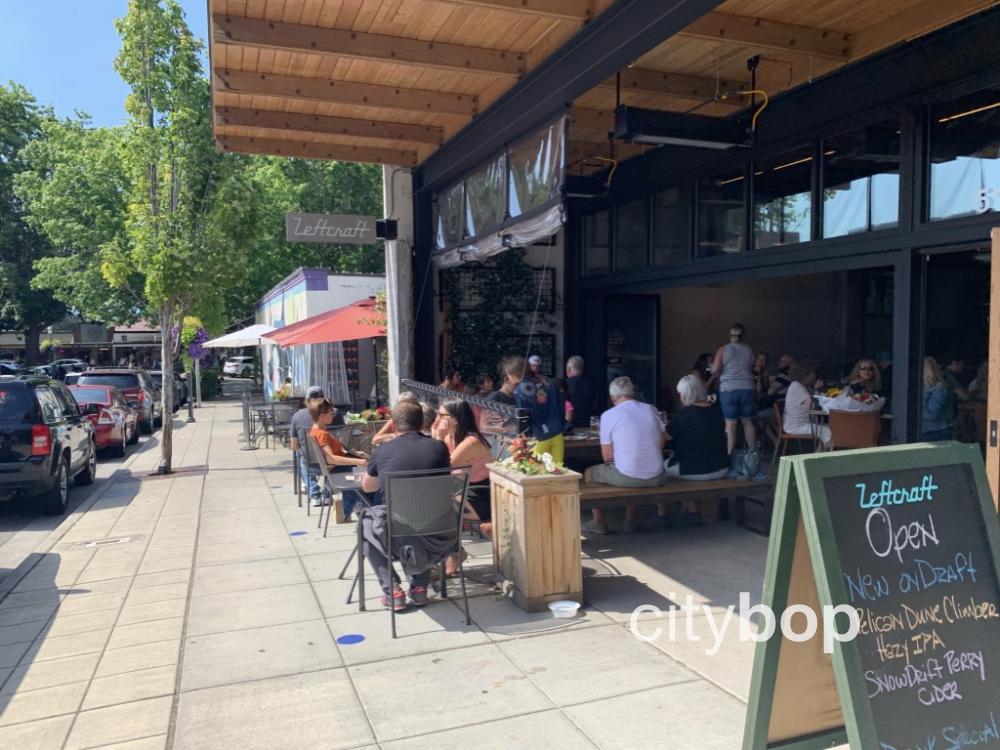 Or dine in a modern, industrial space while choosing from an extensive cocktail list and fresh northwestern cuisine, at Leftcraft.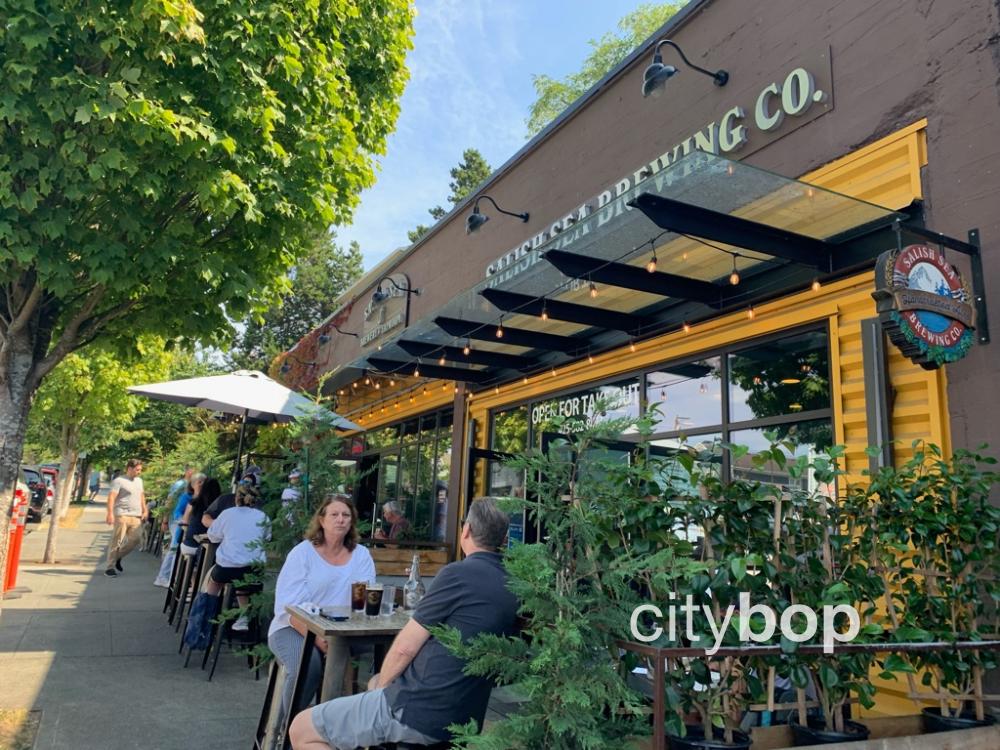 Visit Salish Sea Brewing for handcrafted ales and comfort food.
Some other culinary delights in downtown Edmonds include steak and oysters at the swanky Salt and Iron.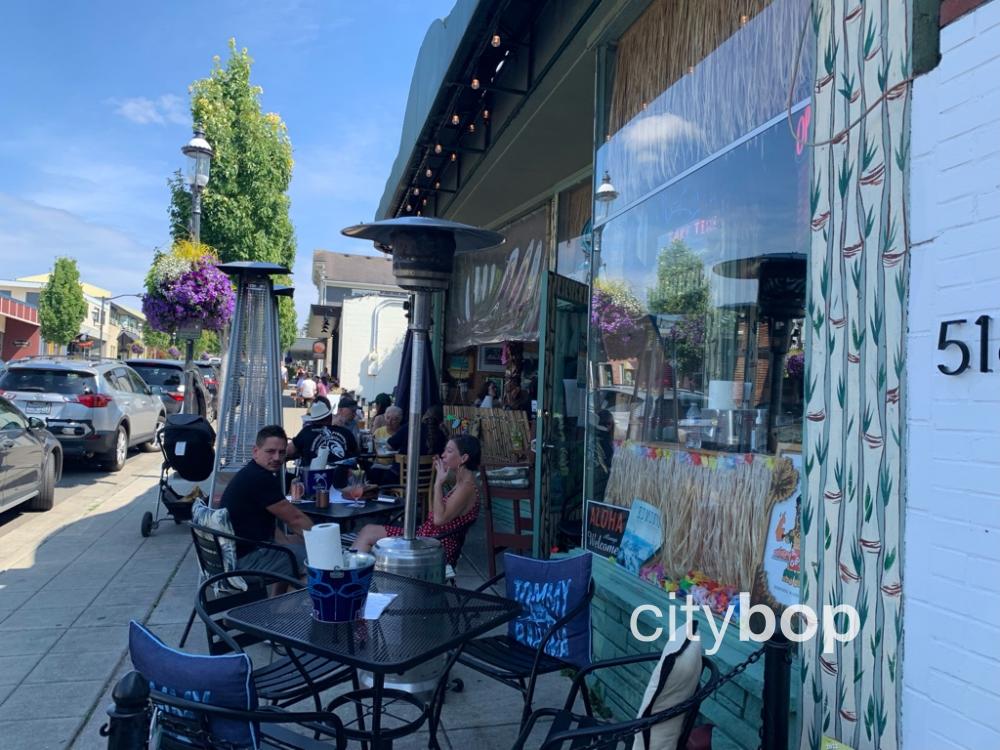 There's also a super fun TIKI bar on Main Street in Edmonds, A Very Taki Tiki Bar.
After eating a meal, explore some great shops in downtown Edmonds. Pick up some gifts at Pelindaba Lavender (pictured above), or stop at the Glazed and Amazed Pottery studio, to paint and glaze a beautiful piece of pottery.
2. Edmonds Historical Museum
The Edmonds Historical Museum is conveniently located in downtown Edmonds, inside the 1910 Carnegie Library building.
There are two floors to explore at the museum, with rotating exhibitions on the upper floor. Learn all about the history of Edmonds and Snohomish County, including a model train-set of Edmonds Station, old logging equipment, and a jail cell.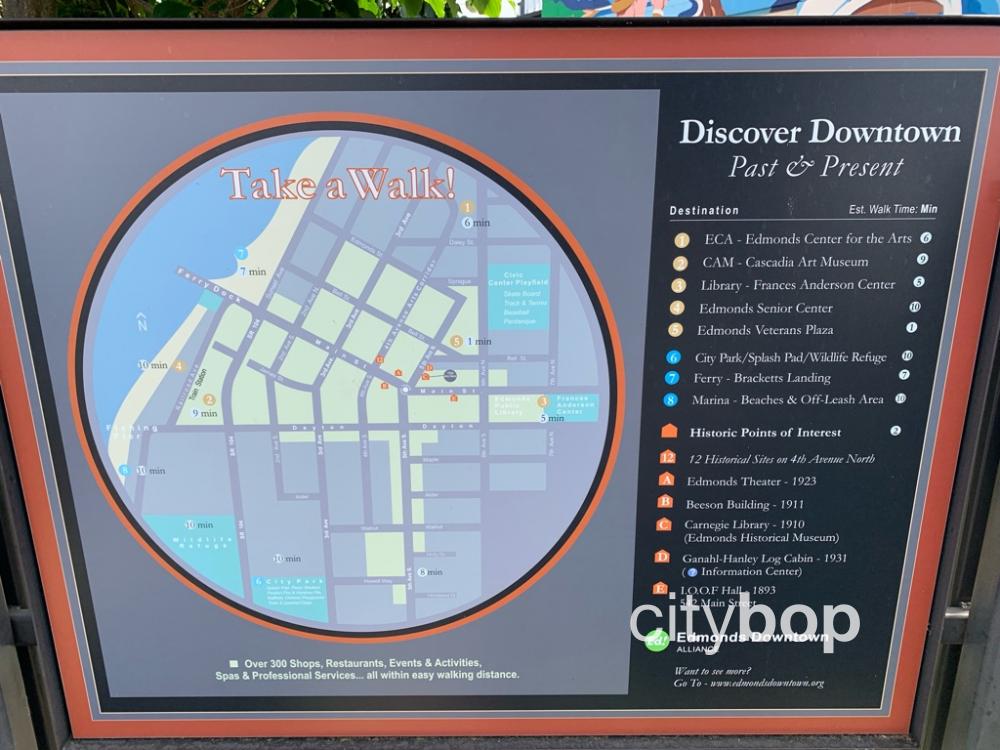 You can also do a self guided tour of Edmonds, and see historic points of interest.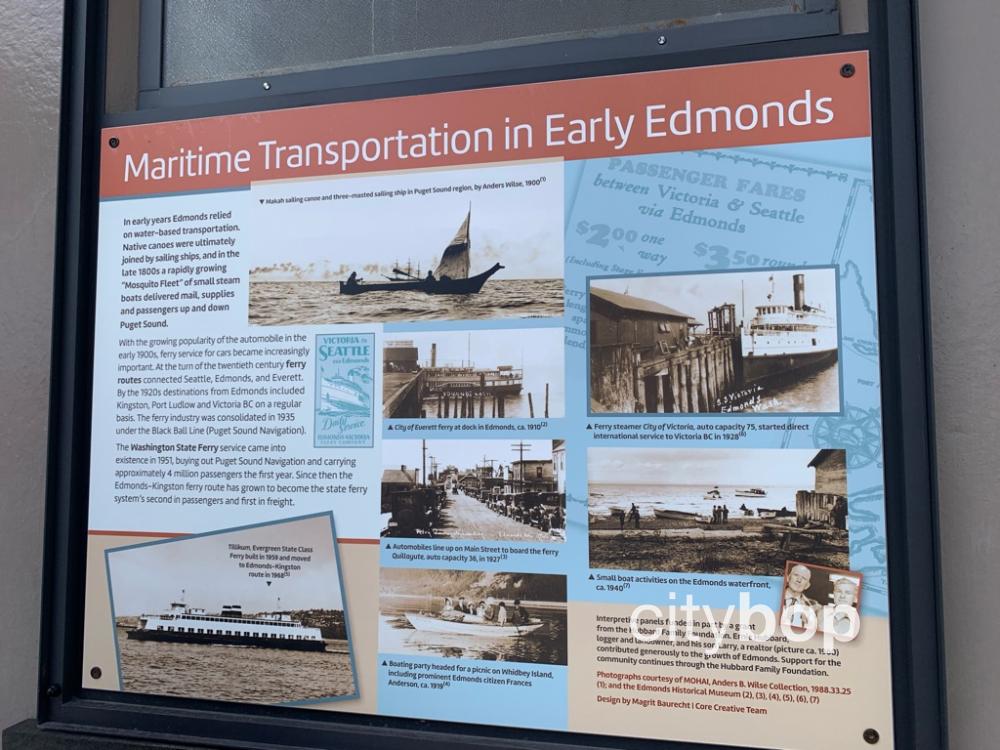 3. Edmonds Visitor Center
The Edmonds Visitor Center is housed inside the 1931 hand-hewn log cabin, and is adjacent to the Edmonds Historical Museum.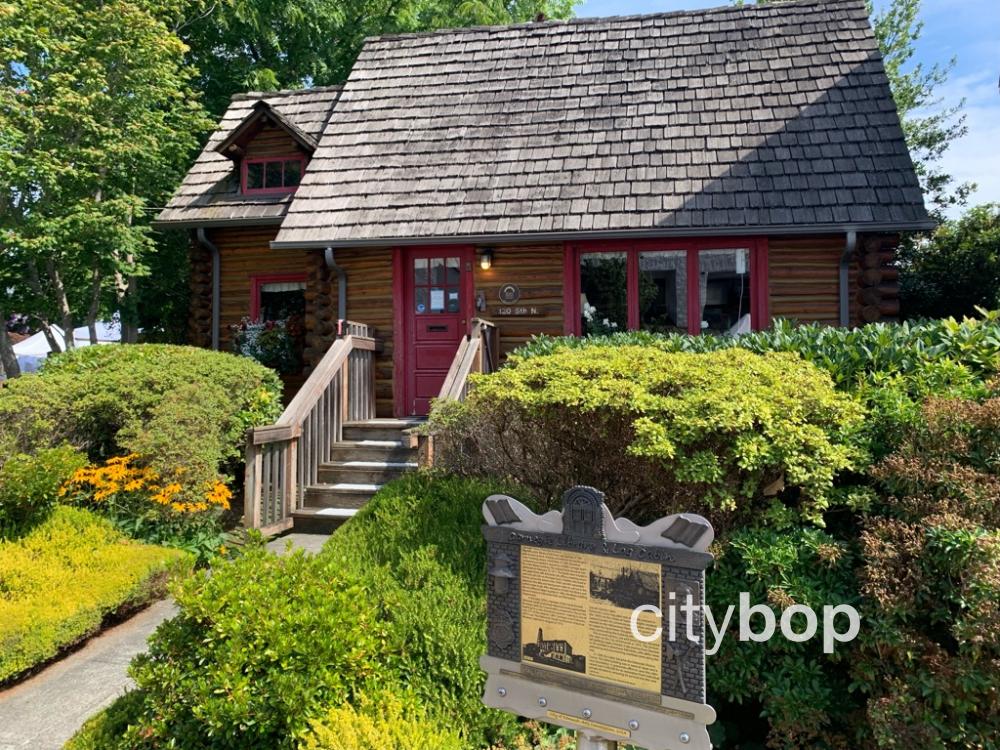 The cabin was relocated to downtown Edmonds in 1975, and was originally a guest house on Gaston Ganahl's estate in Seaview Heights. Ganahl amassed a fortune working for legendary logging and shipping magnate, Robert Dollar, and built a cabin using the same contractor who had worked on similar structures at Yellowstone National Park.
4. Edmonds Farmers Market
The Summer Farmers Market runs Saturdays from mid-May to October in downtown Edmonds, along Fifth Avenue and Bell Street. Check out an amazing selection of fresh product, flowers, handmade products, art and jewelry.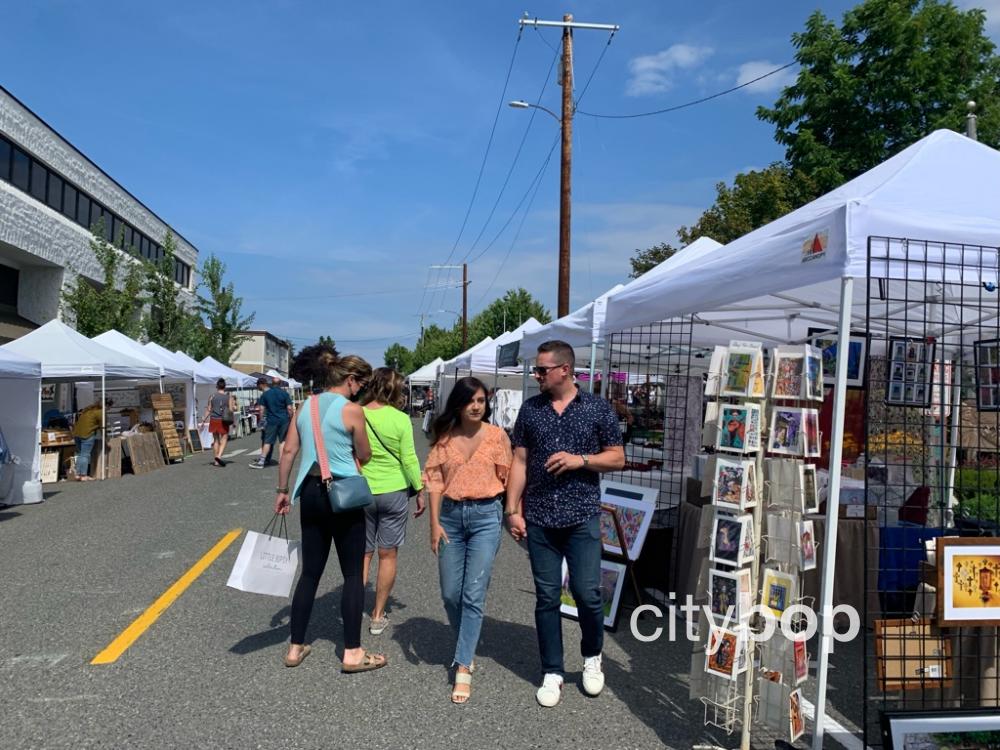 5. Cascadia Art Museum
The 11,000 square foot Cascadia Art Museum opened in 2015 in Edmonds, and showcases the work of Pacific Northwest artists in a beautiful, modern space, with six galleries and a gift shop. Combine it with a visit to the trendy Scratch Distillery next door.
6. Scratch Distillery
Make a reservation for the tasting room or patio at Scratch Distillery, and sample their award winning spirits using organic, non-GMO ingredients from local suppliers.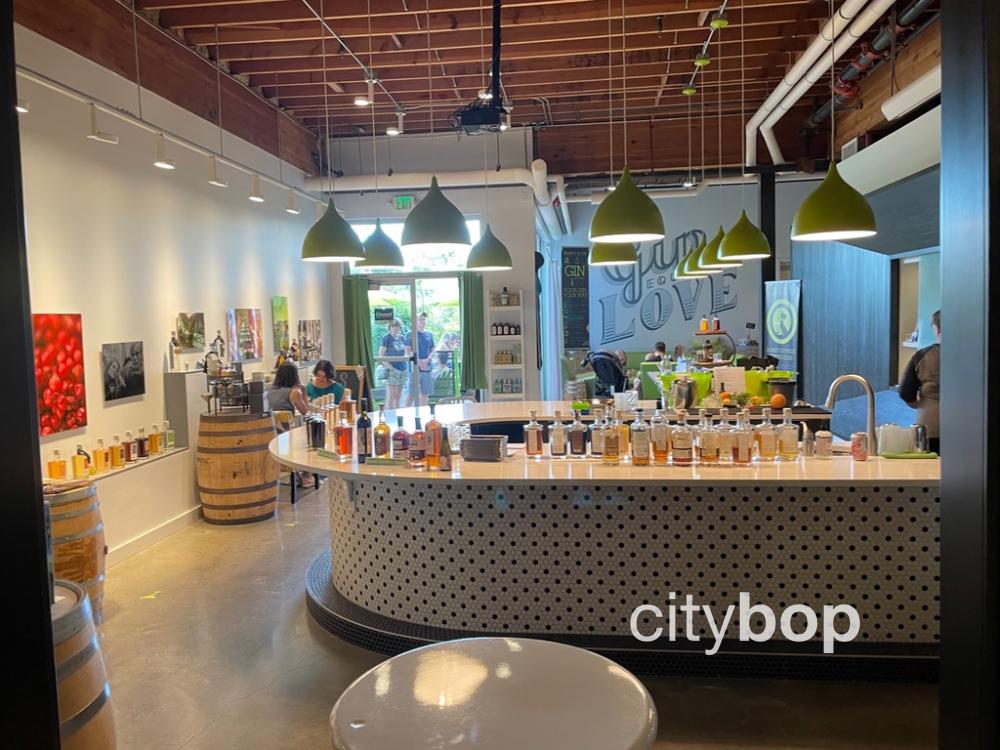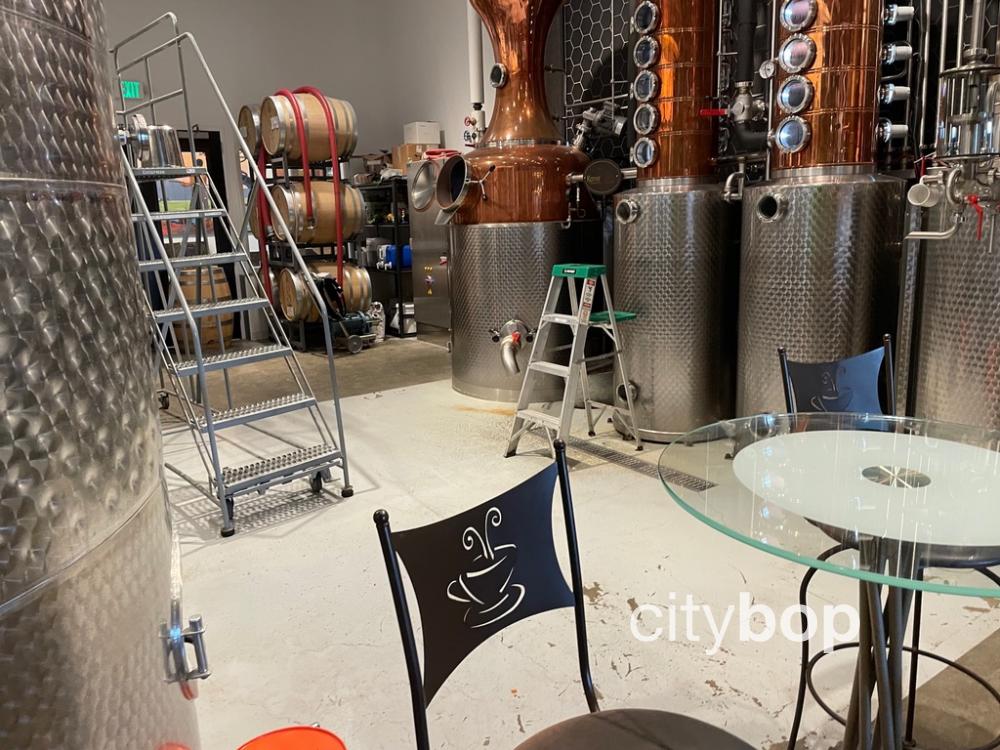 7. Edmonds Waterfront Restaurants
There are two great options for waterfront restaurants at Edmonds. Arnie's Seafood Restaurant is just south of the Ferry Terminal and has gorgeous water views, and Anthony's Beach Café overlooks the Edmonds Marina, serving lunch and dinner.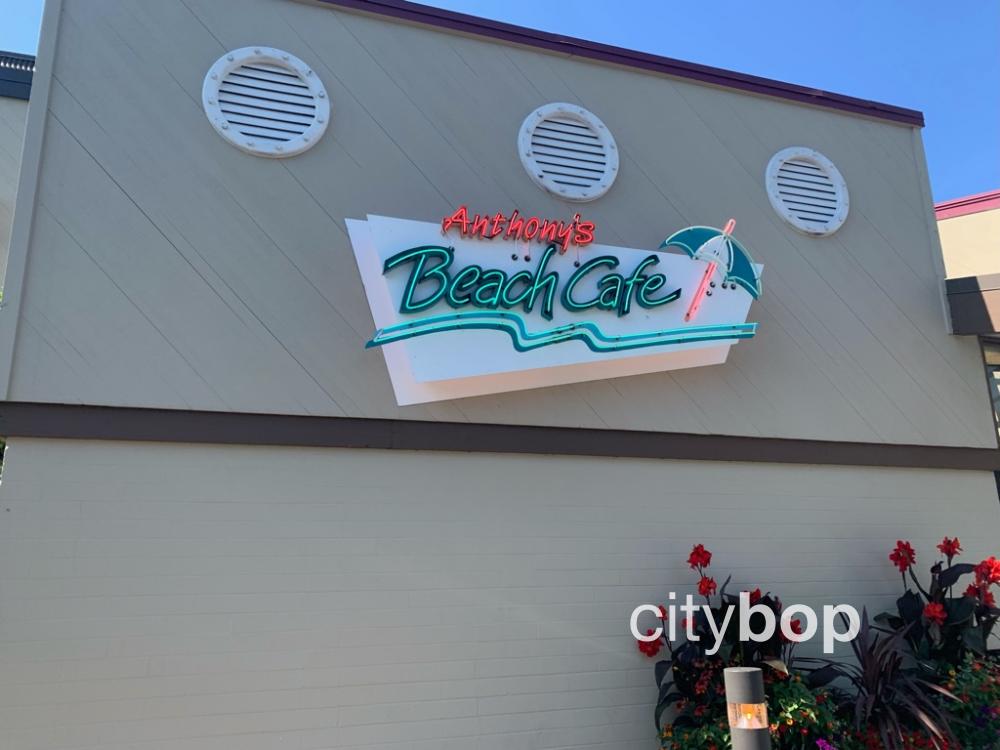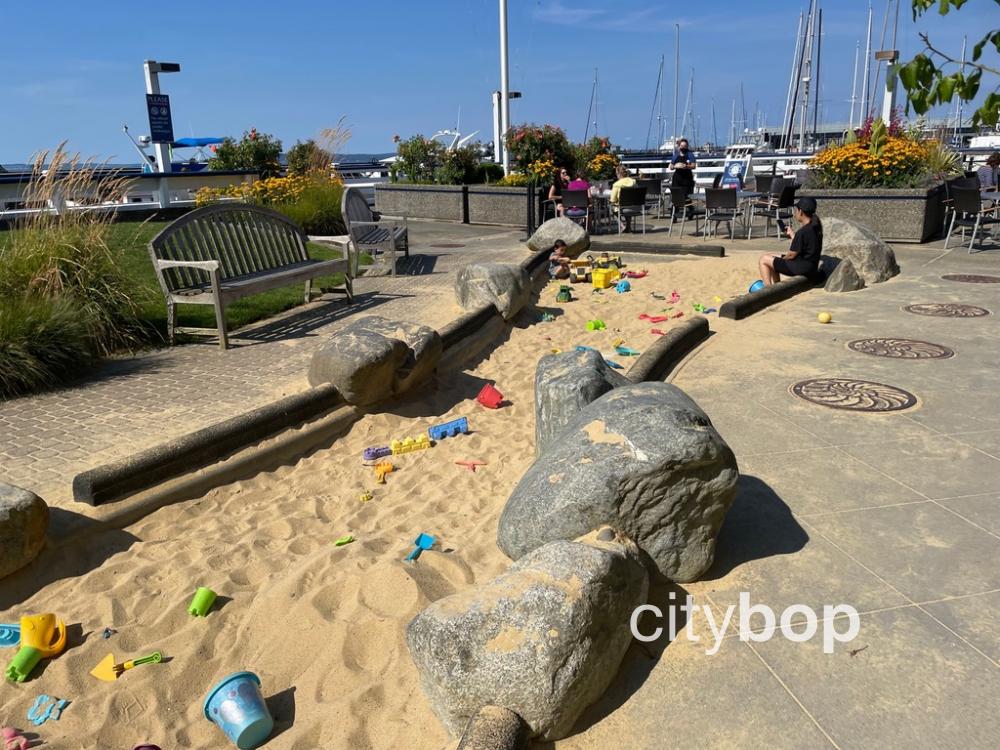 Sit out on the patio at Anthony's Beach Cafe in Edmonds and enjoy your meal, while watching your kids play in the fun sandbox.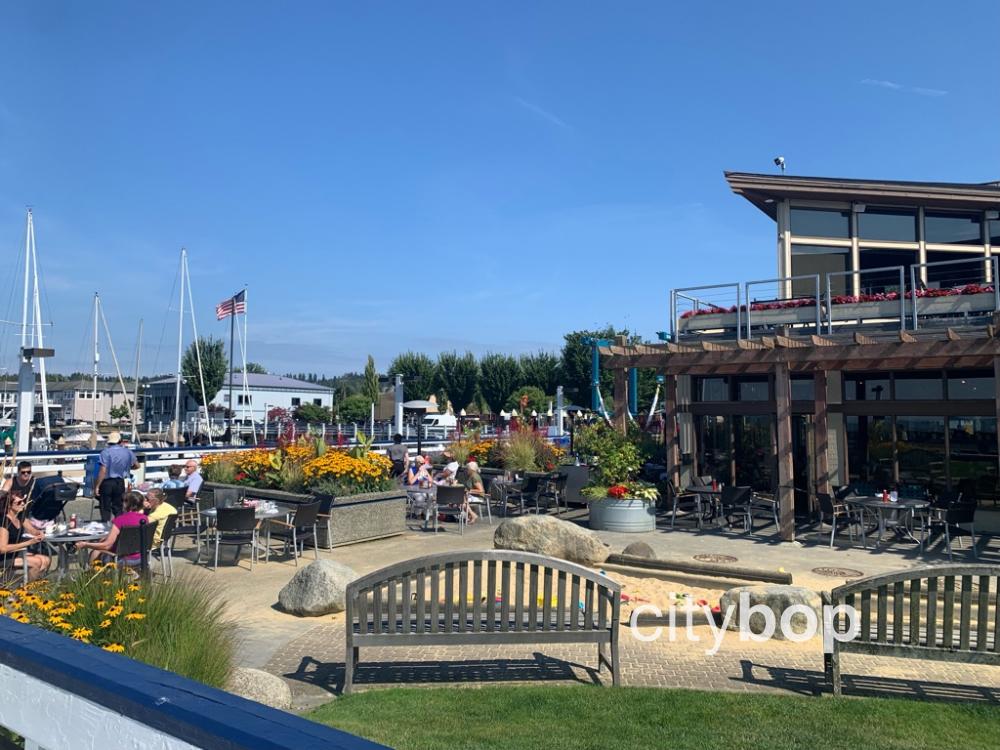 Here's another look at the sandbox on the patio at Anthony's Beach Cafe. Take the stairs up to the formal dining room known as Anthony's Homeport, and savor incredible views of the sun setting over Puget Sound and the Olympic Mountains.
8. Edmonds Ferry
The Edmonds Ferry Terminal is at the end of Main Street in downtown Edmonds. The car ferry has a 30-minute crossing across Puget Sound to the township of Kingston, on the Kitsap Peninsula. From here you can drive to popular places like Port Gamble, Port Townsend, and the Olympic National Park.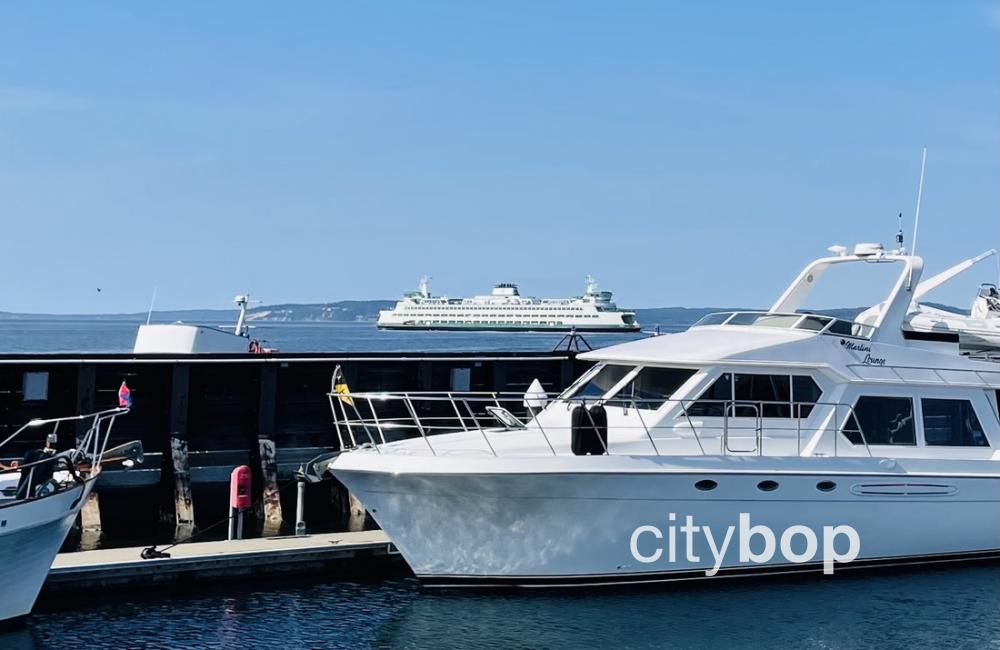 9. Edmonds Marina Boardwalk
The 0.5-mile Edmonds Marina-Boardwalk is a lovely waterfront walk.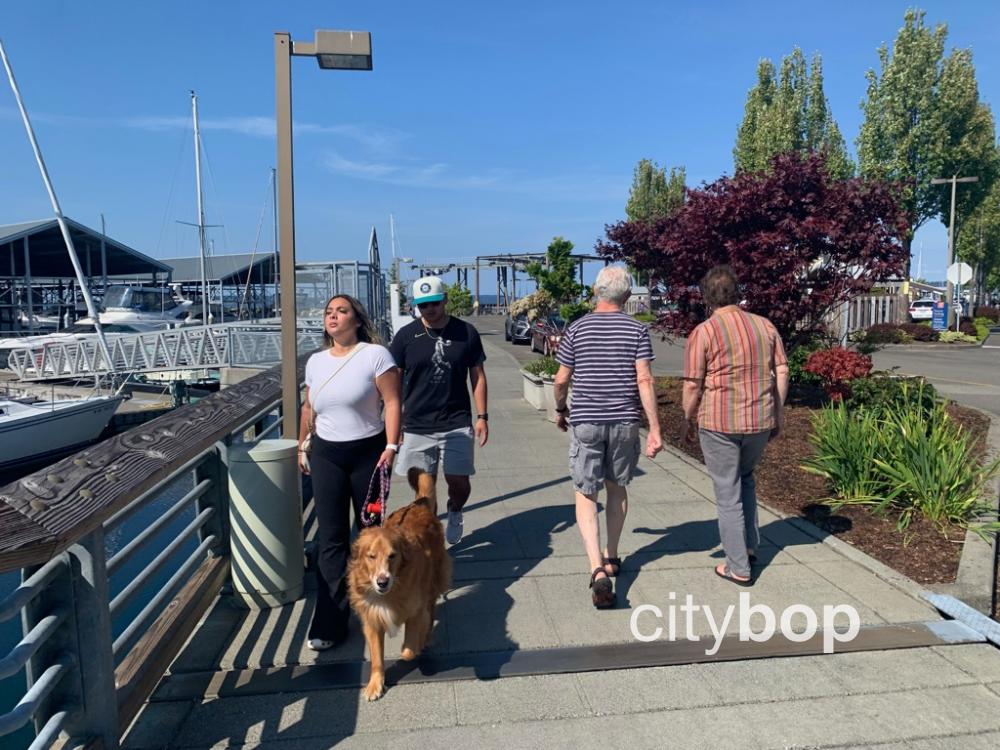 The Edmonds Marina-Boardwalk starts at the Edmonds Fishing Pier outside Arnie's Seafood Restaurant. It then travels south-west past Anthony's, to end at the scenic Marina Beach Park. Take a detour and stroll out along the 944-foot Edmonds Pier, and take in the amazing Olympic Mountain Views, while watching fisherman reeling in crabs or squid. The pier is open 365 days a year.
10. Brackett's Landing North
Brackett's Landing North is a sandy beach on the Edmonds waterfront, directly north of the Ferry Terminal, and is perfect for sunbathing and relaxing. The parking lot is just steps from the beach, making it easily accessible, and there are picnic tables and restrooms at the northern end of the beach.
The beach is named after George Brackett, who founded Edmonds in 1876 and built the town's first wharf, sawmill and loading dock. It's hard to imagine that there were once 14 sawmills along this waterfront, on either side of the Ferry Terminal.
Sit on the beach and watch ferries gliding across the water to the Kitsap Peninsula, or enjoy incredible views of the snow-capped Olympic Mountains. Brackett's Landing North is also part of an amazing 27-acre Underwater Park that was established in 1970 with 2.5 miles of water trails, so expect to see a lot of scuba divers here.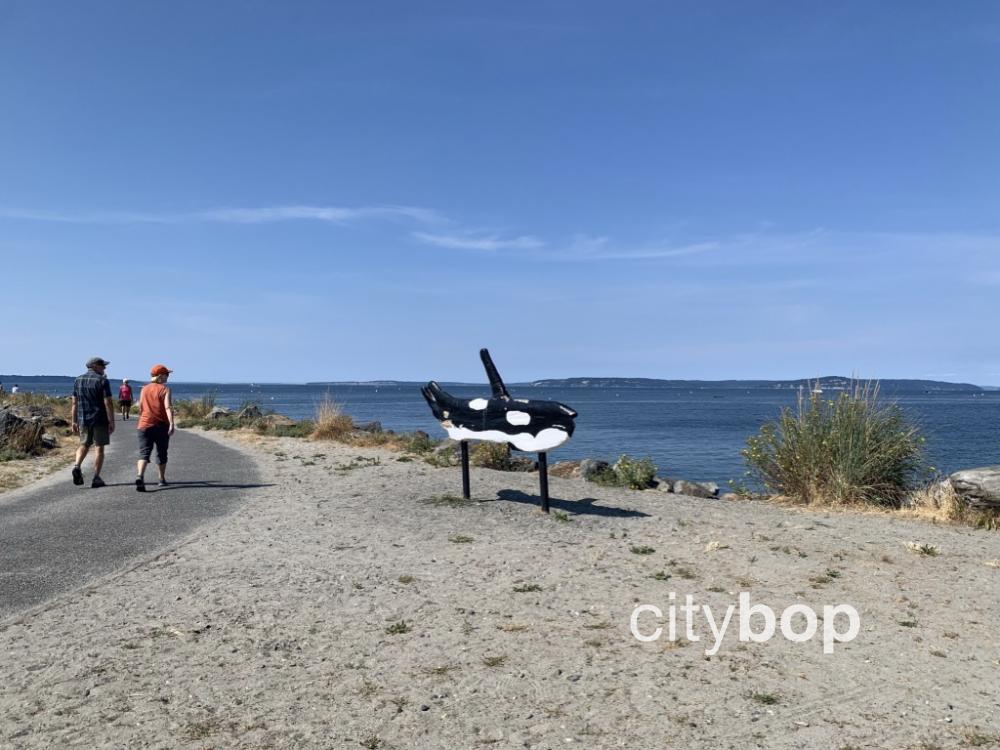 There's a path along the breakwater at the northern end of the beach.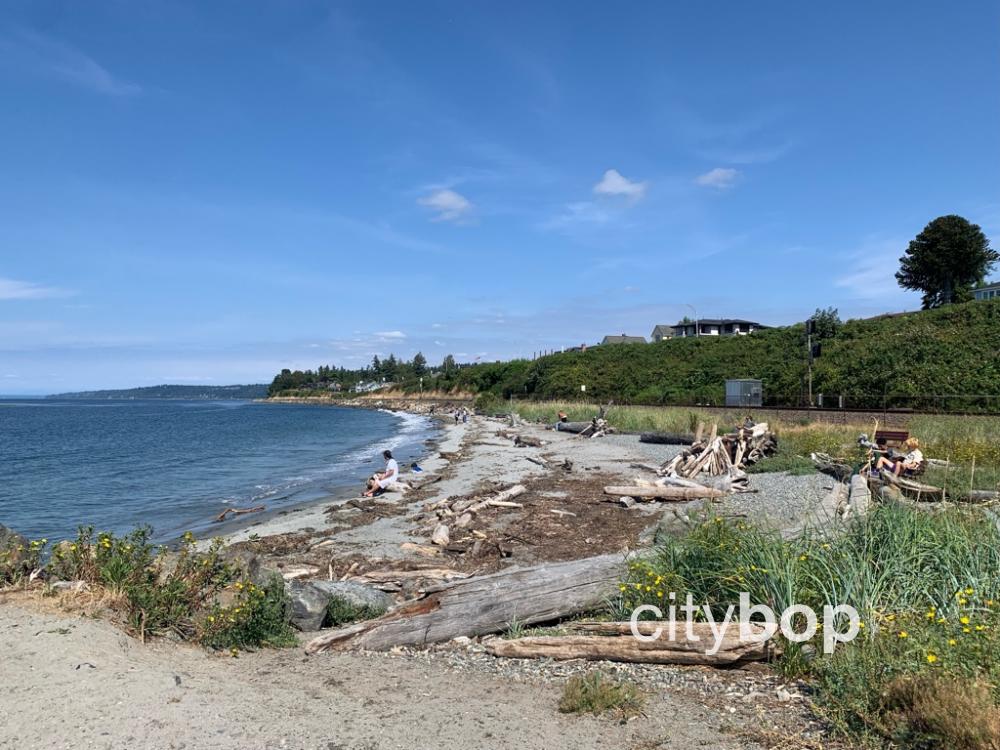 Continue north beyond the breakwater to see another sandy beach, known as Sunset Beach.
11. Brackett's Landing South
Brackett's Landing South is on the Edmonds Waterfront, south of the Ferry Terminal. There's a lovely sandy beach, some public sculptures, and a grassy area for picnics with benches and picnic tables.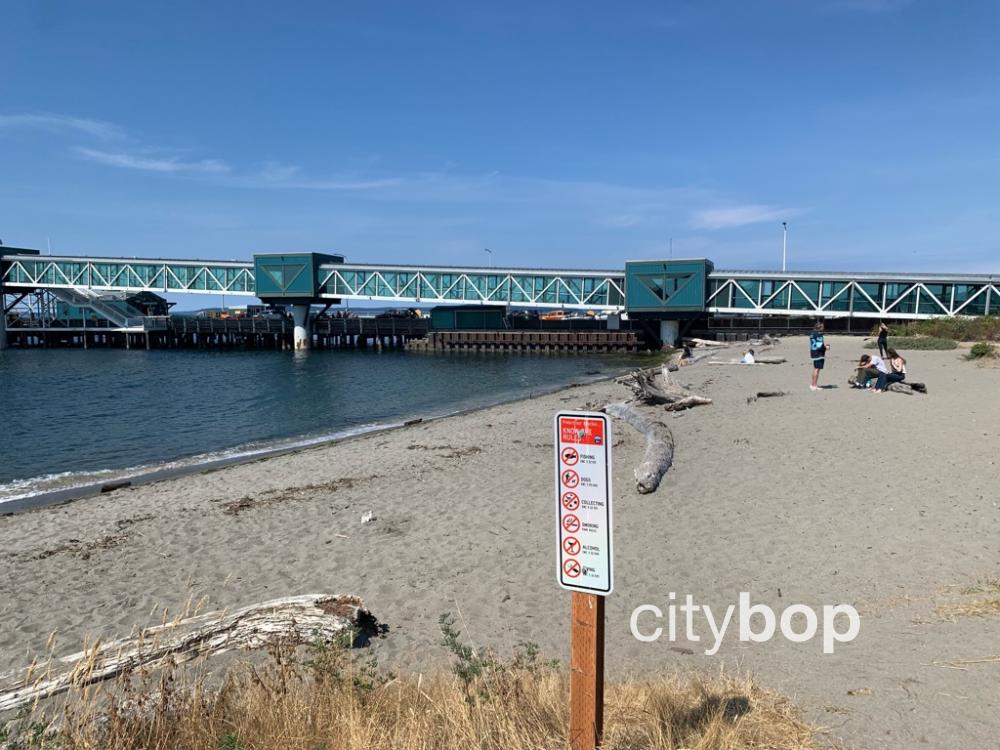 You can actually follow the paved Edmonds Marine Walkway for a 5-minute walk southwest from the Ferry Terminal to the Edmonds Fishing Pier, past Olympic Beach. If you're feeling energetic, continue another half-mile along Edmonds Marina-Boardwalk to the Marina Beach Park.
12. Marina Beach Park
Marina Beach Park is the largest beach in Edmonds, and the perfect place for a BBQ or family get-together.
It's a few minutes south of downtown, with plenty of space on the large lawn area, with picnic tables and BBQ stands on both the grass and sand. Enjoy gorgeous west facing sunsets from this beach, with panoramic views of the Olympic Mountains across Puget Sound.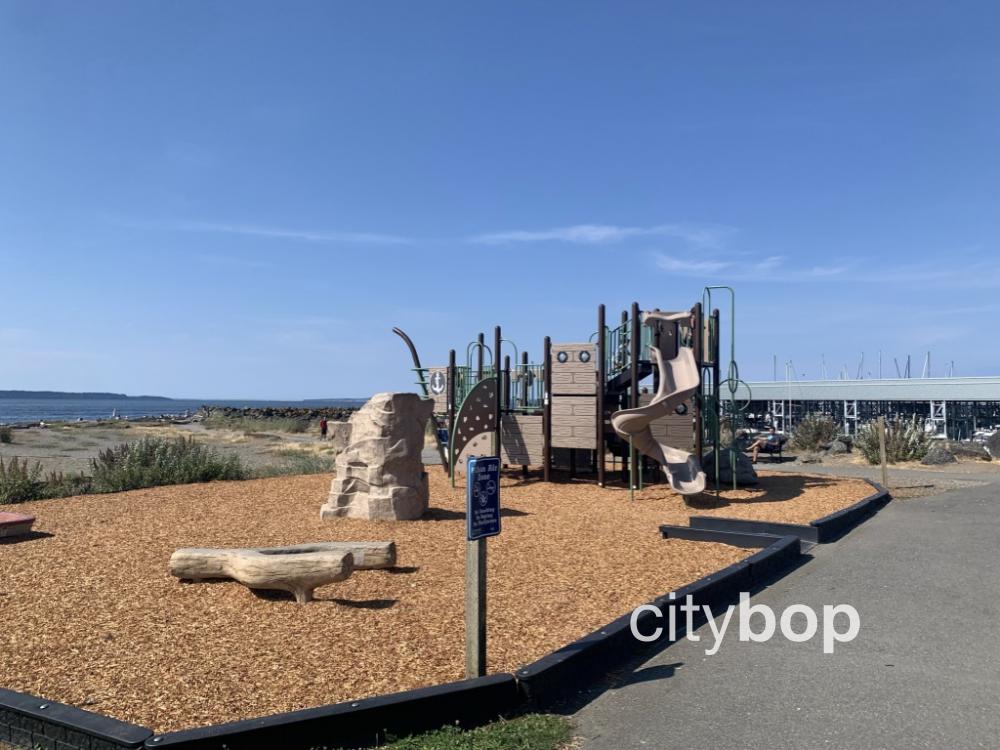 Walk to the fantastic waterfront playground and volleyball court at the northern end of the beach, or to the off-leash dog park at the southern end.
13. Edmonds City Park
The Edmonds City Park is a few blocks south of downtown, and has a fabulous spray-park during summer, adjacent to a large playground with climbing walls, slides and towers. This beautiful park also has scenic trails running through wooded areas, and lots of picnic tables, including a reserve-able picnic shelter.
14. Yost Park
Yost Park is an urban sanctuary, just minutes east of downtown Edmonds. The centerpiece of Yost Park is the open-air pool, operated year-round.
This beautiful park has a network of trails that pass through native forest, descending to the deep ravine carved out by Shell Creek. The park has an abundance of wildlife, like owls, hawks, woodpeckers, raccoons and beavers.
15. Edmonds Theater
Catch a movie at the Edmonds Theater in downtown, just steps from all the great restaurants. This 1923 Art Deco theatre has reasonably priced tickets, and all the first release movies!
More Restaurants & Shopping in Seattle